For Your Consideration: Life Of Pi Is The Best 3D Picture, Not Best Picture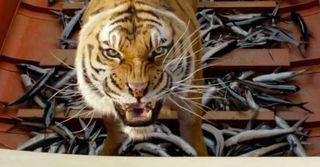 From now until the Friday before the Oscars we'll be running daily pieces about why a film does or does not deserve Best Picture. Katey spoke up for Michael Haneke's Amour. Mack chimed in against Django Unchained while Eric stuck up for it. Then Sean vouched for the magic of Beasts of the Southern Wild, while Rich declared Les Miserables tone deaf, even as Katey defended it. Earlier today Sean praised Silver Linings Playbook and now, Kristy revisits Life of Pi, and determines it unfit for Oscar.
Life of Pi is an absolutely breathtaking movie. I won't pretend otherwise. When I saw it at the New York Film Festival last fall, I was blown away by its immaculate 3D, and director Ang Lee's poignant storytelling. At the time, I wholeheartedly believed it was a serious contender for the Academy Awards' most prestigious honor of Best Picture. And yet when the Oscars were finally announced, I had no enthusiasm for Life of Pi's nomination. Worse yet, I realized I'd be angry if it actually won.
Admittedly, as someone whose job forces her to consider the Oscars for months on end, it's regrettably easy to get burnt out on talking about the awards' frontrunners. How much more is there to say after scads of news items, interviews, reviews, and editorials? But I'm not normally one to be bored by Oscar time. And yet, when the staff of Cinema Blend began planning who would cheer or jeer which Oscar nominee, I found myself reluctant to speak up for Life of Pi. More shockingly, I wasn't alone, despite the fact that several on our team were deeply in love with the film just a few months ago.
In my initial four-star review, I called the film a "stunning 3D spectacle that's exhilarating yet tender in its storytelling, and ambitious in its scope." I stand by that. Lee manages to make Pi's survival on a lifeboat plagued by a growling and starving tiger totally riveting. The depth of field of the 3D placed us on—and sometimes beneath—the perilous waves with the protagonist, and made for a totally exhilarating cinematic experience. Remarkably, Lee placed the audience as close to being in his hero's shoes as I've ever seen or experienced. So, I told everyone who'd listen that they absolutely must see this film in 3D. Life of Pi may be the greatest 3D movie ever made, but it's not Best Picture of the Year.
Its weak points include a wobbly bookend device and an inconsistent (yet overall admirable) performance from newcomer Suraj Sharma. But the fault that has most impacted my long-term opinion of the film is its weak theme about faith and spirituality. At the start, the story of Pi is promised to "make you believe in God," but this doesn't prove true. Pi's fervor and fickleness about organized religion is little more than a charming character quirk. And when he credits God with getting him through the harrowing journey with a dangerous tiger, I might have been convinced if it weren't for the film's final reveal.
There was no tiger. There was no island of death. This remarkable story of survival is a fantasy that Pi created to keep him safe (and sane) after the horrific true story that he suffered through. That is both thought-provoking and heartbreaking, but it is not something that makes me believe in God. If anything, it makes me believe in man, which is basically the opposite of the film's expressed purpose.
After much thought, I have determined it was Life of Pi's slippery spirituality that's made its impact fade for me. It was a beautiful and moving drama with some truly compelling performances and elegant use of 3D, cinematography and depth of field. I do think it deserves recognition for all of this. But in 2012 we were lucky enough to be spoiled for choice in stupendous cinema. And when it comes to themes, this lightweight is punching outside of its class in the Best Picture battle.
Your Daily Blend of Entertainment News
Staff writer at CinemaBlend.