Fantastic Four's Movie Rights May Return To Marvel, Get The Details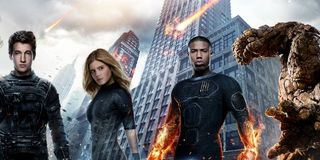 By now you must've heard the unprecedented new television deal between Marvel and Fox. If not, here's the Cliff Notes version: Marvel Studios, owned by Disney, has given Fox access to properties of Hellfire Club and Legion, thereby putting two separate series in development. But what's the catch? Not to discredit Marvel's humanitarian heart, but it seems unlikely that they would be so willing to play ball with Fox, which has owned the cinematic rights to X-Men and Fantastic Four for years.
As it turns out, there may have been a price after all.
Let's take this new rumor with a grain of salt for the time being until we can get more concrete information, but it certainly makes sense. The folks from Den of Geek are reporting that, in order for Fox to have these X-Men shows, they had to give Fantastic Four back to Marvel. That means Reed Richards, Johnny Storm, Sue Storm, and Ben Grimm will feature in the Marvel Cinematic Universe of Avengers and Guardians of the Galaxy. Den of Geek also stipulates that the first Fantastic Four film is likely due out in 2020.
And, whaddya know, Marvel recently announced three untitled superhero movies to be released on May 1, 2020, July 10, 2020, and November 6, 2020. Coincidence? It could be, but the time frame of these announcements makes sense, and the rumor also states that this deal between Marvel and Fox has been in the works for a long time.
What's more is that Fox clearly has a problem with Fantastic Four. Though the studio has tried so hard to keep its hands firmly grasped around the property, none of the previous iterations have been able to stick — least of all this year's iteration. Josh Trank helmed Miles Teller, Michael B. Jordan, Kate Mara, and Jamie Bell in the film that was supposed to reimagine — yet again — Marvel's first family. Based on all the reports leaked out detailing the behind-the-scenes woes, it seemed to be a mixture of studio interference and Trank's consequential aggression that yielded the blockbuster disaster of 2015.
According to Fox reps, including producer-writer Simon Kinberg, the studio still plans on developing Fantastic Four 2, which is currently slated for release on June 9, 2017. Then there was also the rumor that the plan was for Bryan Singer to helm the sequel and crossover his X-Men with the Fantastic Four. All we know for certain on that front is that Singer's next film will be 20,000 Leagues Under the Sea, which could put him at odds with directing FF2; X-Men: Apocalypse is considered both a conclusion and rebirth of the string of main X-Men films; and Fox is focused on further building up its mutant-heavy franchise. With Deadpool, Gambit, New Mutants, and X-Force on the way, the studio considers this property to be its own cinematic universe.
Nevertheless, if Marvel and Sony can come to terms on something like Spider-Man, who's to say a similar pact can't be struck with Fox?
UPDATE: We reached out to Fox for an update on this story, and were told by the studio that there is no deal in place for Fantastic Four to head to Marvel at this time.
Your Daily Blend of Entertainment News
Thank you for signing up to CinemaBlend. You will receive a verification email shortly.
There was a problem. Please refresh the page and try again.