Fantastic Four's Producer Admits Production Was Rough, Claims Film Is Not A Disaster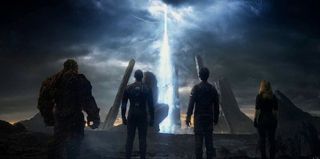 There has been a great deal of talk about the behind the scenes troubles of Fantastic Four. We've heard things like the cast hasn't actually even seen the finished movie yet, and reports that director Josh Trank's clashes with writer/producer Simon Kinberg may have even lead to his leaving the Star Wars spinoff he was supposed to direct. With the release just a few days away, Kinberg set about trying to ease concerns and defend the film.
Talking to EW, Kinberg admits that there were problems on the set and that the entire process was tricky. He cautions, however, that just because there were issues, doesn't mean the movie is bad, and he has hopes for the future of the franchise. He said:
The first reaction to this statement is that it appears Kinberg is doing damage control for a very expensive movie. Most of the stories circulating around the production were not particularly great, including rumors that they brought in X-Men: First Class Matthew Vaughn to do reshoots, rumors that were quickly denied by all involved. Obviously, those have to be taken with a grain of salt—good stories of happy times and hand holding rarely leak out—but they caused concern.
To Kinberg's point, there are countless movies out there, many of them classics, which had notoriously troubled productions. Sometimes actors, directors, writers, grips, and what have you just don't get along and had a miserable time, but the movie turned out awesome. We're hoping that's the case with Fantastic Four.
The fact that Fox didn't start screening the movie until very recently (in many parts of the country it doesn't screen for press until Wednesday, the night before early Thursday shows, and it just isn't screening some places) doesn't bode well. At this point, consensus is split amongst those who have seen the film. Some have praised its darker, grittier take on the superhero source material while others are not so on board. Most of us will have to wait until this weekend to see for ourselves.
Despite their reported conflict, Kinberg still seems to support Josh Trank (you didn't really expect him to publicly trash the director, did you?). He said:
Sure, some of this does come across a little backhanded, putting the bulk of the weight on Trank's shoulders, good or bad. However, even without the rumors of trouble, as the director of a $122 million movie, he would have borne the most of that regardless.
Is Fantastic Four as good as we all hope? Is it as terrible as we fear? We don't know, but we'll all find out when it opens this Friday, August 7.
Your Daily Blend of Entertainment News
Thank you for signing up to CinemaBlend. You will receive a verification email shortly.
There was a problem. Please refresh the page and try again.