Fast & Furious 7 CinemaCon Footage Has Cars Taking To The Skies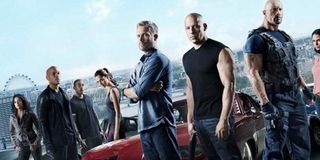 While I got to see a lot of awesome footage at CinemaCon back in 2013, some of the best stuff I saw was from Fast & Furious 6. Universal Pictures gave attendees of the Las Vegas-based expo an extended look at one of the film's biggest action sequences (featuring a showdown between heroes and baddies on a crowded freeway) and got everyone amped for the big summer blockbuster. This morning at CinemaCon 2014 the studio pulled off a similar stunt, getting us equally pumped for 2015's Fast & Furious 7 with a kick-ass sizzle reel filled with never-before-seen footage.
The footage began with the various members of the Fast & Furious crew – including Dominic (Vin Diesel), Brian (Paul Walker), Letty (Michelle Rodriguez), Roman (Tyrese Gibson) and Tej (Chris 'Ludacris' Bridges) – each sitting in their own car, which seem to be trapped in some kind of enclosed space. Everyone looks like they are filled with nervous exhilaration with the exception of Roman, who simply looks terrified sitting behind the wheel (which results in Tej making a joke about adult diapers in the glove compartment). Suddenly a door begins to drop down from behind the group of vehicles and it immediately becomes clear why everyone is in such an excited state: the cars are all parked in the cargo bay of a giant airborn airplane.
Once the door is completely open, Dominic revs his engine and drives full speed in reverse off the edge of the plane and the others follow him, eventually launching parachutes that slow their plummet towards the surface of the Earth. Once Dominic is about five feet from the ground, he releases his parachutes, lands on all four tires and speeds off into the distance.
From there the footage cut to a montage, showing off clips from both party and action scenes. In addition to seeing some familiar faces, including Dwayne Johnson's Hobbs, the shots also revealed a couple of new characters, including Jason Statham's Ian Shaw (who enters into a room wearing a sharp suit and fires rounds of a huge machine gun into the ceiling to get an audience's attention) and Kurt Russell's mystery character (who is shown maniacally laughing into the camera). We then hear a voice over from Dom, who says, "This time it ain't just about being fast."
From there, the final moments of the Fast & Furious sizzle reel brought us back on to the plane where the footage started. Everyone is gone with the exception of Roman, who is simply too petrified to make the move. He calls to the rest of his crew to say that he just couldn't do it, but his buddies have a special surprise for him. Tej pushes a button that launches some kind of weight off of the back of Roman's car and drags the vehicle out, Roman kicking, screaming and terrified the whole way down.
Even as someone who doesn't know a great deal about the Fast & Furious franchise, I must say that the footage looked like quite a bit of fun and fans should be in for a real treat. Even though this is the first sequel without director Justin Lin at the helm since Fast & Furious: Tokyo Drift, it doesn't look like the series will be skipping a beat action-wise with horror filmmaker James Wan at the helm. Curiously, during the presentation there was no mention of star Paul Walker's untimely passing, mentioned neither in remembrance nor in how the movie will be moving on without him.
While Fast & Furious 7 was originally going to come out on July 11th of this year, it will now be hitting theaters on April 10, 2015. Are you excited yet?
Your Daily Blend of Entertainment News
Assistant Managing Editor
NJ native who calls LA home and lives in a Dreamatorium. A decade-plus CinemaBlend veteran who is endlessly enthusiastic about the career he's dreamt of since seventh grade.