Fast & Furious 7 Could Gross $1 Billion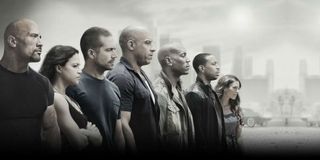 You probably know this, but in less than a week, Furious 7 has already made a ridiculous sum of money. But this is only the beginning, and it looks like the latest installment in the adrenaline-fueled franchise could become the first movie of 2015 to cross the $1 billion mark.
According to the Wrap, China will play a big role in whether or not they hit the ten-figure milestone. Like the rest of the world, the film is tracking like gangbusters there, and sources say it's likely to take in $125 million when it opens in that increasingly important market. Should this come to pass, Furious 7 will out gross the last two chapters combined—Fast 5 made $40 million in China in 2011, while Fast & Furious 6 earned $66 million there in 2013.
As it stands, Furious 7 is almost halfway to the billion-dollar stage, having already wrangled up $490 million worldwide, $147 million of which came opening weekend in the U.S. alone. That's not only tops for the franchise, but it is in the top ten for all domestic openings all time, which isn't too shabby. By itself, that opening bests the domestic totals for the second and third films in the family, 2 Fast 2 Furious and Tokyo Drift, which peaked at $127 million and $62 million in the U.S. respectively. It's still crazy how these movies reinvented themselves after it looked like they were done.
If Furious 7 does cross the billion-dollar plane, it will be the first film of the year to unlock that achievement, but it almost certainly won't be the last. It shouldn't even be the only for very long. The Marvel juggernaut keeps rolling right along, and Avengers: Age of Ultron will surely hit that high when it opens in a few weeks on May 1. That still leaves The Hunger Games: Mockingjay—Part 2, which could get there; after the success of Skyfall, expectations for Spectre are through the roof; oh, and there's a little movie called Star Wars: The Force Awakens coming at the end of the year some people are excited about.
In the wake of Furious 7's success, there have already been rumblings about Fast & Furious 8. Moving on with the franchise in the wake of Paul Walker's death, the latest reports indicate that the action will go down in large part in New York, somewhere they've never gone to this point. Star Vin Diesel also said that Kurt Russell's shadowy government agent, Mr. Nobody, could play a larger role, and we've even heard Eva Mendes could reprise her role as U.S. Customs agent Monica Fuentes.
However Fast & Furious 8 shakes out, it sounds like it's a long way from even getting started. A lot had to be retooled after Walker passed away. For now we can just sit back and watch Furious 7 rule the global box office. At least until Age of Ultron.
Your Daily Blend of Entertainment News
Your Daily Blend of Entertainment News
Thank you for signing up to CinemaBlend. You will receive a verification email shortly.
There was a problem. Please refresh the page and try again.