Fast & Furious 8 Will Change Locations And Give Us Way More Of One Character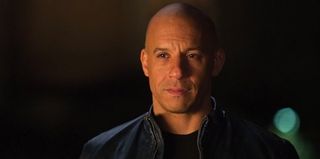 Furious 7 hasn't even opened yet, but when your movie is tracking to break box office records, you can be forgiven for jumping the gun a little bit. And that's exactly what franchise stalwart Vin Diesel just did, dropping a few tidbits about what we can expect from Fast & Furious 8, including a new location and a beefed up role for one new character.
Diesel stopped by Jimmy Kimmel Live to talk cars parachuting out of airplanes, insane stunts, and his undying love for Paul Walker. When Kimmel brought up new addition Kurt Russell, who makes his franchise debut in Furious 7, Diesel gave us a glimpse of what's to come. He said:
Russell plays a government agent with the super spooktacular name Mr. Nobody in Furious 7, and if what Diesel says is correct, we're going to see much more of him as this new trilogy moves forward. I am always going to be okay with more Kurt Russell. He's one of cinema's great badasses, and he feels like a perfect addition to this family of movies.
For all the exotic locations visited over the course of the first seven movies—for a bunch of Southern California street racing kids, they've managed to land in some incredible destinations—they've never really visited the Big Apple. They've been to London, Rio de Janeiro, Tokyo, and many more, but we've yet to see Dom and the rest tearing through the concrete jungle of New York City. I think it'll be awesome, but it's something we haven't experienced up to this point.
Whatever the plans are for the next movie, Diesel sounds giddy about what's on the horizon. Go to the 2:30 mark when he starts talking about the future, he gets a mischievous glint in his eye.
Furious 7 picks up with the crew of Dominic Toretto (Vin Diesel), Brian O'Conner (Paul Walker), and the rest of the "family" they've assembled once again back to living their normal lives. Unfortunately for their peace and well being, Owen Shaw (Luke Evans), the villain they tussled with in Fast & Furious 6, has a mean older brother, Deckard Shaw (Jason Statham), who is out to exact some good-old-fashioned revenge. We got a quick taste of this last time, and now it's time to mount up for one more ride and get some payback of their own.
James Wan (Saw) takes over the directing duties this time out, and in addition to Paul Walker and Vin Diesel, we'll see the return of Michelle Rodriguez, Jordana Brewster, Tyrese Gibson, Ludacris, Lucas Black, and Dwayne Johnson. Jason Statham and Kurt Russell are only two of many newcomers, as Tony Jaa, Djimon Hounsou, Nathalie Emmanuel and Ronda Rousey all show up. Furious 7 roars into theaters everywhere this Friday, April 3.
Your Daily Blend of Entertainment News
Thank you for signing up to CinemaBlend. You will receive a verification email shortly.
There was a problem. Please refresh the page and try again.