Fast & Furious 7 Hit Another Huge Box Office Milestone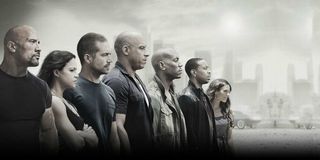 It's been just under two months since Furious 7 performed a hand-break turn into cinemas with a mountain of critical acclaim, impressive stunts, and scintillating action set-pieces. Since then the likes of Avengers: Age Of Ultron and Mad Max: Fury Road have been released, but Furious 7 continued to make more and more money. So much money in fact that it's now become only the fourth film of all time to pass the $1.5 billion mark at the box office.
That's right, Furious 7 is now the fourth highest grossing movie of all time, and it has nestled into position just behind The Avengers, Titanic, and Avatar. In order to become the third highest grossing movie of all time, Furious 7 will have to bring in a further $18 million from somewhere. However, box office experts are predicting that it will be a tall order for it to do that.
Currently, Furious 7 is the highest grossing movie of 2015. But there's still an outside chance that Avengers: Age Of Ultron will ultimately surpass it. Joss Whedon's superhero hybrid has currently taken in $1.278 billion, but continues to bring in more and more. But that doesn't really matter. Even if Age Of Ultron does manage to haul back Furious 7's total and then surpass it, the Vin Diesel led vehicular behemoth has been a resounding success.
So far, Furious 7 has earned $348 million at the U.S. box office, while it's also brought in a phenomenal $1.152 billion from international markets. When you compare that to the franchise's previous instalments, it makes for even better reading. 2001's The Fast And The Furious made a paltry $207 million, 2003's 2 Fast 2 Furious $236 million, while The Fast And The Furious: Tokyo Drift seemed to ring the death knell for the franchise when it returned the frankly embarrassing $158 million worldwide.
However 2009's Fast & Furious reinvigorated the series with its $363 million total, and Fast Five's $626 million and Fast & Furious 6's $788 million grosses suggested that the cinematic juggernaut had reached its zenith. The fact that Furious 7 has managed to take in more than twice as much as its predecessor proves that its popularity has never been higher. And the powers that be over at Universal plan on taking full advantage of that with Furious 8, which has already been announced for April 14, 2017.
But what made Furious 7 so much more popular than its predecessors? Well, Paul Walker's death (like Heath Ledger's with The Dark Knight) evoked sympathy in audiences, who flocked to say goodbye to the actor. Furious 7's promotional campaign also played upon Walker's passing, but did so in a heartfelt fashion that never felt disingenuous. It also helped that Furious 7 was rollicking blockbuster cinema at its finest and was a pure joy to watch from beginning to end. Bring on Furious 8.
Your Daily Blend of Entertainment News
Thank you for signing up to CinemaBlend. You will receive a verification email shortly.
There was a problem. Please refresh the page and try again.