Fast & Furious 7 Is Putting Up Huge Numbers Among All Demographics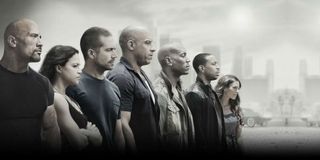 You won't be surprised to learn that Furious 7 made a tremendous amount of money over the weekend. But that statement doesn't do its numbers justice, as the seventh instalment to the hugely popular franchise has now broken the box-office record for April, largely by appealing to a surprisingly wide range of demographics.
According to Fox News, Furious 7 made $143.6 million in the United States of America alone, and has numbers from Universal Pictures revealing that 75 percent of the film's North American audiences were non-Caucasians. Breaking down those numbers further, the report says that 37 percent of the total audiences was Hispanic, African-Americans represented 24 percent, Asians registered 10 percent, and 4 percent were defined as "other."
Box office experts believe that the film's diverse cast is the reason for its wide appeal. The ensemble was once again led by Vin Diesel, and he was joined for the rollicking adventure by Tyrese Gibson, Michelle Rodriguez, Dwayne Johnson, Jason Statham, Chris Bridges, Tony Jaa, Djimon Hounsou, Kurt Russell, Jordana Brewster, and Paul Walker. The assorted ethnicities of these actors obviously appeals to mass audiences, and one could make a fairly easy argument that it's the most diverse franchise in Hollywood. It's definitely refreshing, and it's pretty obvious that people are responding to it in a big way. This shouldn't be too surprising, as the series has managed to be both successful and diverse for years now, but it's never too late for the industry to take finally notice and actually let it influence the development of future projects. It's a situation where change and progress is a win for all sides.
Of course, there are other reasons for Furious 7's monumental box office success. The untimely death of Paul Walker gave the franchise a weight and poignancy that has seen die-hard fans of the series flock to the cinema to see the film, while it also meant that naysayers were intrigued by it too. Plus, Furious 7 has also been met with impressive reviews, as critics and moviegoers have been quick to reveal that despite being gratuitous, over the top and stupid it's also ridiculously enjoyable and entertaining.
It will be interesting to see how the Fast & Furious franchise proceeds following its emotional conclusion – which we won't spoil here. At the same time, though, the huge financial success of Furious 7 means that Universal will almost certainly take advantage of its popularity with a yet another installment, the money factor outweighing the poignancy factor. Honestly, if it's anything like Furious 7 then we should all be grateful.
Your Daily Blend of Entertainment News