Fast & Furious 7 Originally Had A Different Ending Before Paul Walker Died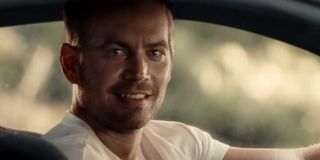 Those of us who watched Furious 7 in theaters this past weekend were treated to a touching tribute to the late Paul Walker at the end. Director James Wan and his crew used a combination of CGI, Wiz Khalifa's "See You Again" and a montage of scenes from all the Fast and Furious films to give their brother a proper sendoff. Though this moment brought many a tear to audiences around the world, Wan recently opened up about the ending that was originally planned prior to Walker's tragic death.
Speaking with Collider, Wan said that the ending had originally served a much different purpose.
Walker was taken from the world too soon after a car accident in 2013. The actor had already filmed the majority of his scenes, which prompted the release to be pushed out of 2014 and the studio utilizing various methods to finish production. Walker's brothers, Cody and Caleb, were enlisted to help finish his remaining scenes, and CGI was used to bring Walker back for the Furious 7 ending. If you haven't seen it, get a tissue, because Universal released the music video for "See You Again" that features footage from the scene.
As Walker's co-star and on-screen wife Jordana Brewster told HuffPost Live, none of the cast members were sure they'd return to the franchise following the death. So far, Furious 7 has performed better than expected at the box office, becoming the Fast and Furious film with the highest-grossing opening weekend and taking in the most dough of any film with an early Thursday premiere. Fast and Furious 8 seems like a sure thing, but Brewster is still unsure whether she would return as Mia. For now, she's leaving it up to the fans. Diesel, on the other hand, has already begun teasing where the next installment will go. Though it's not official yet, start prepping for some New York City street action.
Your Daily Blend of Entertainment News
Your Daily Blend of Entertainment News
Thank you for signing up to CinemaBlend. You will receive a verification email shortly.
There was a problem. Please refresh the page and try again.