Vin Diesel Made This Short Film To Tie The Fast & Furious Timeline Together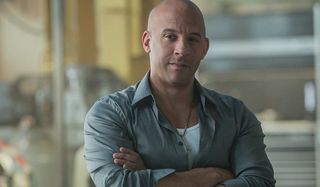 With the $384 million worldwide weekend gross of Furious 7 the Fast franchise shows no signs of slowing down, as its muscle-car-centric mythos only continues to accelerate. In fact, contrary to assumed opinions, the series has spun itself a rather interesting canonical web. This idea was ever-apparent with some particularly revelatory scenes in Furious 7 regarding backstories of Vin Diesel's Dom and Michelle Rodriguez's Letty. Now, a short film made by Vin Diesel himself, years ago, has become the perfect complementary viewing for much of the surprises from this past weekend's blockbuster hit.
WARNING: SPOILER material ahead for those who have yet to see Furious 7!
Titled, Los Bandoleros ("The Bandits"), the 18-minute short film written and directed by Vin Diesel was made in 2009 to serve as a prequel of sorts to the events leading up to his return to the franchise in 2009's Fast & Furious. While Vin Diesel's Dom is an indelible part of the film franchise, it's easy to forget that he was only in the first film before taking an 8-year hiatus from the series. Los Bandoleros serves as perfect setup to the events of the 2009 fifth film in the series. However, after what was learned in Furious 7 by way of the various flashbacks regarding Letty's memory, the short is almost upgraded in status as required viewing.
The short begins with an immediate tie-in device, revealing that the character of Han Seoul-Oh (Sung Kang), who was introduced to the series in the fourth film, The Fast and the Furious: Tokyo Drift was connected to Dom, who, up to that point had only been featured in the first film, which culminated in Dom fleeing the country after Paul Walker's Brian let him escape the law. It is clear that Han has been flown to the Dominican Republic not for recreation or enjoying the sticky weather, but rather, to join Dom on a heist of some kind that he's clearly been planning for some time. After a prison break that springs Leo (Tego Calderón), Dom and Han attend a party where the plot to hijack a gasoline shipment is laid out. The plan seems set and Dom is enjoying himself with a couple of floozies when Letty suddenly drops in, wanting a piece of the heist…and Dom, as their romance is rekindled.
Thus, Los Bandoleros not only directly sets the stage for the heist that kicks off Fast and Furious, but it also provides some critical context for Furious 7. As the new film deals with the aftermath of Han's death at the end of 6, a trinket often-seen in the series is discovered among his effects in the cross necklace that for some reason is so valuable to Dom. Well, thanks to Letty's post-amnesia flashbacks, we learn that the necklace was a wedding ring of sort for Dom and Letty, who, as it turns out, were actually married sometime after the first The Fast and Furious. Most likely, Los Bandoleros takes place during that time period.
It's certainly interesting to know that such a critical piece to this high octane cinematic romance has been floating out there for quite some time. With its apparently renewed sense of importance, Fast fans may want to give Los Bandoleros a look.
Your Daily Blend of Entertainment News