Fast & Furious 8 May Be The End Of The Line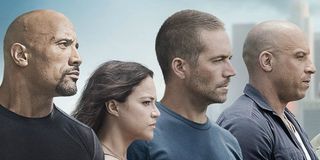 Furious 7 was a massive hit for Universal. It topped the box office and quickly became the highest-grossing Fast and Furious movie so far. Though these numbers essentially mean another sequel will be green lit, how far will the studio ride this cash cow? A new statement from the film's director, James Wan, hints that we might not see any more films beyond Fast and Furious 8.
Wan recently spoke with The Daily Beast about his time directing Furious 7 and what the future holds for his career. Despite the big numbers his installment pulled, he's unsure of whether he'll return for Fast and Furious 8, and even suggests Justin Lin should return to direct. But it's his final words that seem to hint at the future of the franchise in general.
"Closed it out"? Is he implying that Fast and Furious 8 could be the end of the franchise? It doesn't wholly seem that way, though his word choice is interesting. The Daily Beast notes that Wan has "no doubt" Universal will move ahead with more Fast and Furious sequels. "Sequels," as in plural, being the keyword here, though it doesn't seem like Wan will return to the driver's seat. He's got The Conjuring 2 in the works and he's rumored to be eyed for the Aquaman movie, and the Fast and Furious films require a lot of his time to make.
Previously, Universal said that they planned on making at least three more sequels after Furious 7. Their official stance was, "if people keep seeing them, we'll keep making them." And right now people are definitely seeing them. So, despite Wan's words, I wouldn't expect an eight installment to be it's last.
Though details on Fast and Furious 8 are still under wraps, Vin Diesel has already begun teasing the sequel. During an appearance on Jimmy Kimmel Live, the actor said that the story will take the crew to New York City, while the original ending was meant to set up connections to the future plot. In light of the tragic death of Paul Walker, James Wan and the studio changed the ending to accommodate a tribute to their fallen comrade. After Walker's death in a car accident in November 2013, the future of the franchise was left in doubt. Though, Universal believes they can still further develop new films.
Your Daily Blend of Entertainment News