Fast And Furious Parody Superfast Finds Its Vin Diesel And Paul Walker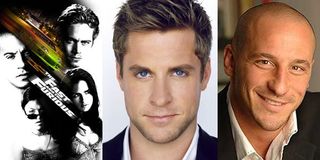 If you're like me, hearing that The Fast and The Furious franchise has inspired a parody gives you that dull ache in the back of your head when you're hungover. (Which I'm not. Promise.) Nonetheless THR reports writers-directors Aaron Seltzer and Jason Friedberg are gearing up for Superfast, a spoof that's meant to poke fun at the car chase franchise that already seems pretty well aware of its own outrageous quirks.
As Superfast nears its start date, the filmmakers are proud to announce they've found their Vin Diesel and Paul Walker for Superfast in Dale Pavinski and Alex Ashbaugh. This indie comedy will reportedly have a lean budget, so it's little surprise that they've cast relative unknowns in the lead roles. Ashbaugh was recently seen in the notorious Lindsay Lohan vehicle The Canyons, and Pavinksi has scored bit parts in Underworld: Rise of the Lycans and Takers. Filling out their car-stealing crew will be Cloverfield's Lili Mirojnick as the Mia (Jordana Brewster) equivalent, Law & Order's Andrea Navedo as the Letty (Michelle Rodriguez) part, and 21 & Over's Daniel Booko will play the lesser remembered role Matt Schulze portrayed in the original of Dom's friend who doesn't trust the gang's newest member.
Seltzer and Freidberg are old hands at spoofs, having first collaborated on the 1996 Leslie Nielsen espionage comedy Spy Hard, which was directed by the latter's father Rick Friedberg. The screenwriter team have made a string of spoofs including Scary Movie, Date Movie, Disaster Movie, and Epic Movie as well as the 300 parody Meet the Spartans and the Twilight-inspired Vampires Suck. All of the above are decidedly low-brow ventures, but when the casting is just right, it can make for some sharp mockeries of certain stars. For instance, check out Jenn Proske doing her best Kristen Stewart in Vampires Suck:
It could be fun to see actors aping on Walker and Diesel's typically stone-faced performances. But personally, I tend to get tired of Seltzer and Friedberg's shtick long before the credits run. Regardless, their latest movies cost about $20 mil to make, but often pull in over $80 mil worldwide. While that's peanuts compared to the $788 million Fast & Furious 6 has pulled in globally, they are still strong showings for devotedly dumb spoofs.
Superfast will roll into production in October in Los Angeles. No release date has yet been teased, but Seltzer and Friedberg's next venture The Starving Games (yes, a Hunger Games parody) will open November 8th, just two weeks ahead of The Hunger Games: Catching Fire. As Fast & Furious 7 will hit theaters on July 11th, 2014, we expect Superfast will open to far less fanfare in June.
Your Daily Blend of Entertainment News
Staff writer at CinemaBlend.