First Fast & Furious 7 Set Photo Is A Showdown By A Lake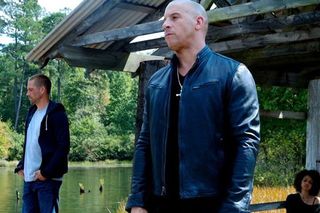 No matter what may actually be true about the top-billed stars in Fast & Furious 7 or who's getting the biggest paycheck, we all know that the real star of the movie is the cars and how many ridiculous things director James Wan can think to do with them. But for the sake of his ego, and to not rub things in after the fairly disappointing performance from Riddick, we'll go ahead and call Vin Diesel and Paul Walker the stars of Fast & Furious 7, as highlighted in this first picture from the set that Diesel put on his very active Facebook page.
What else can you glean from this first look at the film? You'll have to think pretty creatively to find anything in there. The seventh film is set in Los Angeles, as Diesel promised back in May, but production is actually happening right now in Gwinnett County, GA, and a close look at that lake behind Walker and Diesel reveals it sure looks more like the South than California. Of course, it's unclear how they wind up at all in California given the teaser at the end of Fast & Furious 6, which launched the story all the way to Tokyo. Director James Wan, who is replacing series mastermind Justin Lin as director, is taking on the series at a moment where its many characters and time-jumps could really start to pay off. As Kristy wrote after seeing Insidious 2, there's reason to believe he can pull it off. But it's a surprisingly big challenge for a franchise that started off as just a bunch of dumb car chases.
In addition to Diesel and Walker, the seventh Fast & Furious film has brought in a ton of people to offer more tough guy creed, from Djimon Hounsou and the immortal Kurt Russell to another immortal star, martial arts master Tony Jaa. Again, I'm not exactly saying that Walker and Diesel need to bring in extra ammunition to make a good film… but let's wait until a set photo reveals some of those other co-stars and we'll compare the excitement level to see who's right.
Fast & Furious 7, with all the ensemble cast and fast cars you could want, comes to theaters July 11, 2014.
Your Daily Blend of Entertainment News
Staff Writer at CinemaBlend