Favorite And Least Favorite: The Star Wars Cast Takes Us Through The Force Awakens Process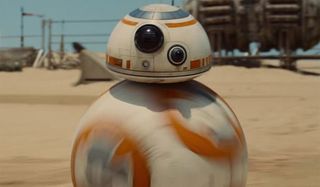 When you think about it, the cast of Star Wars: The Force Awakens got to live a dream that many of us have had. While fans have merely had to imagine what it would be like to fly around in an X-Wing or do battle with a lightsaber, the ensemble of actors in the sci-fi film actually had the chance to do it. But being in a Star Wars movie is like anything in this world, in that it had its fair share of ups and downs.
Following this thinking, when I had the chance to interview the Star Wars: The Force Awakens cast earlier this month I took the opportunity to ask them all about their favorite and least favorite elements making the movie. I was surprised to find that their answers were all varied an interesting… but you can find that out for yourself by reading on!
Oscar Isaac
If you thought that you were excited about the release of Star Wars: The Force Awakens, then you should put yourself in Oscar Isaac's shoes. He found the experience of piloting an X-Wing to be just a bit rough on his stomach, but he has found that his favorite part of the entire process has been the run up to the film's release. What's interesting about this is how it comes in contrast with what he describes as the most challenging part of the process: simply getting over all of his own insecurities and just trying to understand what his place within the film.
Daisy Ridley
There are a number of actors in Star Wars: The Force Awakens who can be described as newcomers – but that adjective is especially applicable to Daisy Ridley. After all, the film will actually be the first feature credit on her resume. Weirdly, this is what made the experience of filming the movie all the more special, as she found the opportunity to get to know the people working behind the scenes and spend time with the crew. As for her least favorite element, it seems like she wants to say that it's been all of the secrecy surrounding the project, but those feelings are dissipated when she realizes that they are "containing this wonderful, magical thing.
John Boyega
As we revealed earlier this week, John Boyega was kept on the hook for quite a long time after first auditioning for Star Wars: The Force Awakens - seven months to be exact. The actor jokingly says that he physically aged while waiting to hear whether or not he got the part – but found it was worth it in the end. As he explained to me, he found a real pleasure in being a part of the team making this film, and taking on the responsibility that comes with bringing this massively important thing to a new generation. Surely many would be incredibly intimidated by this aspect, but apparently Boyega cannot be grouped among them.
Adam Driver
While Oscar Isaac has found joy in the building tidal wave that is the release of Star Wars: The Force Awakens, apparently Adam Driver has had the exact opposite feelings on that matter. It turns out that he has really wanted for fans to finally get to see this movie, and that the wait hasn't exactly been pleasurable. Fortunately, this aspect was counterbalanced just in the pleasure he got from showing up to work on the film – which apparently took a long time. As he reveals in the interview, it was only a few weeks ago that he put his own finishing touches on Kylo Ren.
Harrison Ford
When I asked Harrison Ford about his favorite part of the process, he didn't hesitate to explain that for him it's all about the work. Regardless of the project that he's working on, what he really loves about acting is actually acting – be it on a stage or in front of a camera. As you'll see in the video above, though, he was a bit challenged to think of what he thinks of as his least favorite aspect. Ultimately, he went with trying to feel useful to the process while talking about the movie with people like me – and essentially not having enough time for a real conversation under time constraints.
Luptita Nyong'o
Star Wars fans can certainly be ranked amongst the most passionate on Earth – as they have spent decades delving into the details of this fictional universe, and have had no problem expressing their extreme displeasure when appropriate. In coming to The Force Awakens, Lupita Nyong'o found that this was one of the more troubling aspects of the project, as it all feels really intense. The good news is that she has a lot of fun bumping into the film's droids – even if she's not entirely sure how to react around them when they're being operated by a human.
Gwendoline Christie
While everyone I talked to could find at least one thing that they didn't enjoy about the process of making Star Wars: The Force Awakens, Gwendoline Christie wound up being the exception. Evidently being Captain Phasma is the greatest thing ever, as she explained to me that there really is no least favorite part, and that it's purely a dream to be a part of Star Wars. Having that much positivity about the whole experience made her favorite part of the process that much better, as she explained that every day since starting work has been getting better and better – including having the opportunity to be in a photoshoot with C-3PO, R2-D2, and BB-8.
Assistant Managing Editor
NJ native who calls LA home and lives in a Dreamatorium. A decade-plus CinemaBlend veteran who is endlessly enthusiastic about the career he's dreamt of since seventh grade.
Your Daily Blend of Entertainment News
Thank you for signing up to CinemaBlend. You will receive a verification email shortly.
There was a problem. Please refresh the page and try again.