The Fear Monger: Abigail Breslin Kills, Adam Green Exorcises, And Sexy Women Fight Zombies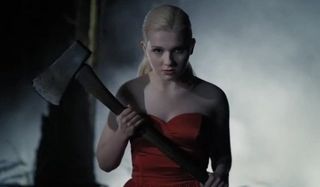 Good day, damners of all things disagreeable with your stomach. According to at least five websites, today is Name Your Poison Day, which is certainly the least Socrates-friendly holiday of the year. For the record, my poison is bourbon, and I'm naming it Zeppo. It's also Best Friend Day... and my selection remains the same for that one.
In mini-news, Universal's Olivia Cooke-starring thriller Ouija is hovering ominously on an October 24, 2014 release date. Radius-TWC has picked up David Robert Mitchell's It Follows, which gained all kinds of acclaim at Cannes recently. The Strangers writer/director Bryan Bertino is writing a screenplay for VFX mastermind Rob McLellan's serial killer robot flick Abe. And finally, The Bunnyman Massacre, the sequel to Carl Lindbergh's "loosely based on a real killer" 2011 film Bunnyman, is getting a DVD and VOD release from Midnight Releasing on August 12. Check out the "okay then?" trailer below.
And now on to talking about murderers with human-sized ears.
Abigail Breslin Kicks Killers' Asses in Final Girl Trailer
Not to be confused with Todd Strauss-Schulson's pluralized The Final Girls, Tyler Shields' directorial debut Final Girl stars Abigail Breslin as a teenager who stands up and fights back against a group of too-cool-for-school dudes who use murder as an initiation into their exclusive club. And as full-length trailer seen above shows us, she isn't just some helpless damsel who suddenly becomes a super survivor in third act: she was trained since childhood by Wes Bentley. Aren't we all a little trained by Wes Bentley?
Final Girl looks more like a cross between a short story Quentin Tarantino wrote in high school and Zack Snyder's Sucker Punch, only with more potential than that description allows. Alexander Ludwig leads the ego-driven gang in a routine "game" in which they send a girl out into the woods and prey on her; but they get way more than they bargained for with Breslin, who is more than capable of dishing out damage. The trailer goes on a little too long, as Bentley's full role could have been kept a secret until the film came out, and I have no idea how this story and tone will hold over a 90-minute runtime. But it still looks pretty good, if only because I want to see Cameron Bright's smug face get split in half. There's no release date set, but we'll let you know when one is FINALized.
Hatchet Director Adam Green Will Perform an Exorcism
With ideas for the fourth-through-tenth installments of the Hatchet series presumably boiling away inside his head, director Adam Green is bringing out the devil for Revolver Picture Company's upcoming thriller Exorcism on Crooked Lake. While he usually writes the scripts for his features, as well as his and Joe Lynch's TV series Holliston, Deadline reports he'll be helming a screenplay from Devil director John Erick Dowdle and his familial screenwriting partner, Drew Dowdle. The two also wrote Quarantine, The Coup, and the underseen found footage horror The Poughkeepsie Tapes. Their storytelling combined with Green's direction might just equal something special.
Exorcism on Crooked Lake will center on two priests, one middle-aged and one younger, and a female medical student, all of whom go to a house out in the middle of nowhere to perform the titular demon-removal to a young pregnant woman. But it isn't just supernatural foes threatening them, as there is also a satanic cult who have made it their goal to kidnap the child and raise it as their own. Sounds like a bad night. Production is set to begin this fall.
Watch the Wild First Scene from Dark Fairy Tale Borgman
If you thought a movie like the Dutch thriller Borgman would spend its first few minutes trying to carefully set international viewers up with a ton of exposition and info, you'd be way wrong. Drafthouse Films and Angel Films have released the first 4 ½ minutes of the festival hit, and I understand no more about the movie now than I did before watching it. But I'm just as heavily intrigued (though I'm really not in the mood for strangers to visit).
Borgman follows the titular vagrant (Jan Bijvoet), who is "rescued" from an underground domicile, seen in the clip above, and soon hits up a wealthy couple, at first only asking for a much-needed bath. It soon becomes obvious, however, that there is more on Borgman's mind than just a shower and a shave, and viewers can expect a darkly comedic home invasion that always stays one step ahead. He may not be the Mole Man, but Borgman is certainly a fine substitute. You can find Borgman on VOD now.
Fetish Factory - Teaser Trailer #2 (opens in new tab) by dreadcentral (opens in new tab)
Zombies Go Burlesque for Fetish Factory
We've seen zombies take on all kinds of things here at Cinema Blend, but I'm fairly certain we've never seen them hunt down burlesque performers imitating some of the most beautiful women in modern history. That's where Blanc/Biehn Productions' Fetish Factory comes in. The directorial debut from screenwriter and Dread Central mainstay Staci Layne Wilson, Fetish Factory unveiled its first teaser trailer, which makes it clear this flick will mix B-movie thrills and chills with over-the-top humor and the essence of boobs.
The titular Fetish Factory employs Jennifer Blanc as Jayne Mansfield, Carrie Keagan as Bettie Page, and Emma Jacobs as Suzie Wong, along with some more humorous performers like a magician, a ventriloquist and a whip dancer. (Does every movie need a character named Whipping Boy? Maybe.) Everything is a big ball of sexy fun until a swarm of zombies attack, and the girls use everything at their disposal to keep themselves safe. Hollywood may never be the same, for better or worse. Get your fear boner lubed up and ready to go for Fetish Factory later this year.
Submerged Trailer Will Leave You All Wet
With 2012's triple dose of The Aggression Scale, Silent Night and Under the Bed, director Steven C. Miller proved himself adept at cranking out decent (if not original) thrillers peppered with familiar faces. Things haven't changed for his new flick, Submerged, which stars Tim Daly, Mario Van Peebles and Willa Ford. You know how Jaws made people scared to swim in the ocean? Mark my words that Submerged will be "that movie" that makes people scared to drive limousines into canals.
A group of asshat kidnappers decide to make life hell for a limo filled with young partygoers, which is forced off of the road and into a canal, where it sinks to the bottom. The group then has to figure out how to survive, as the pocket of air inside the limo won't be around forever. So of course it's up to the ex-military badass behind the wheel to save everyone. While it doesn't look like the greatest piece of cinema, there's something enjoyably disturbing about this scenario. Find out who lives and who dies when Submerged comes out this fall.
Your Daily Blend of Entertainment News
Assistant Managing Editor
Nick is a Cajun Country native, and is often asked why he doesn't sound like that's the case. His love for his wife and daughters is almost equaled by his love of gasp-for-breath laughter and gasp-for-breath horror. A lifetime spent in the vicinity of a television screen led to his current dream job, as well as his knowledge of too many TV themes and ad jingles.