The Fear Monger: The Conjuring 2 Finds The Best Director Possible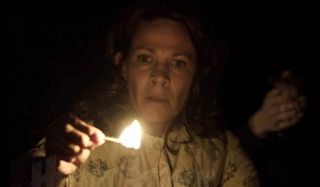 Good day, horror fans. If you haven't heard, critics are saying Ouija is the best film of the year. No, wait, you haven't heard that because Ouija was a pile of crap. But anyone who expected different probably always needs things spelled out for them via board games. You might have better luck on the VOD front, where both the anthology film VHS: Viral and Brad Anderson's Stonehearst Asylum were released in the past few days.
In smaller news, Sony is teaming with Eric Heisserer, writer of the remakes for Nightmare on Elm Street and The Thing, for his directorial debut, a Ring-like supernatural thriller called Exposure. Game of Thrones actress Natalie Dormer will be headed to Japan for the suicidal ghost thriller The Forest, while Patrick Stewart will play a white supremacist leader for Jeremy Saulnier's Green Room. Finally, the indie filmmaker crew WTFLOL (responsible for the stellar Marvel Zombies vs. Army of Darkness) put out Sarah Connor vs. Jason Voorhees, the initial entry for a potential series of pop culture clashes called "Slash Up." Check out a trailer for it below:
And now some great news about what's going down in mainstream horror…
The Conjuring 2 Stays with James Wan
One of the most successful horror movies of all time, James Wan's The Conjuring, has already unleashed a spinoff (Annabelle) on audiences as the impending sequel gets closer to an official pre-production process. It'll be a lot easier now that Wan has decided to return to direct the second installment of the budding franchise. That's great news for fans of the supernatural frightfest, and it adds some better-than-expected context to Warner Bros. and New Line pushing The Conjuring 2 out of its previously set October 25, 2015 release date. It'll now be released at some undetermined date in 2016.
I wasn't the biggest fan of the first film, in which Ed (Patrick Wilson) and Lorraine Warren (Vera Farmiga) investigate a haunted home, but Wan's direction is what made the film as successful as it was. This is part of a larger overall deal that New Line cooked up with Wan, in which his Atomic Monster production company will create middle-budget movies in the horror, sci-fi and comedy genres, and possibly even a DC movie (What, no period romances?) Universal, with whom Wan worked with for Fast and Furious 7 and is tied to another sequel, is allowing Wan to make The Conjuring 2 as his next pic.
The Woman in Black 2 Drops a Non-Terrible Trailer
I would never expect much from a movie with "#SheNeverLeft" as part of its marketing scheme, but there are a lot of things about The Woman in Black 2's trailer above that I genuinely liked. It basically looks The Grudge meets The Orphanage, with a limited storyline allowing for atmosphere and jump scares to rear their BOO! heads. For my money, though, I'm just happy this flick isn't a modern-day sequel centered on a bunch of teenagers spending a weekend in the house on a dare. Plus, British child actors are generally a lot more tolerable than American child actors, so it's nearly the best case scenario for a sequel that probably shouldn't exist in the first place.
Directed by Tom Harper, the Daniel Radcliffe-free The Woman in Black 2 takes place 40 years after the original and centers on Eve (Phoebe Fox), a schoolteacher who takes her students to the haunted Eel Marsh House to keep them safe during London's WWII bombings. The children begin acting strangely and it's not because of any dietary changes. The Woman in Black is awakened and she is intent on making everything super-duper evil. It involves a lot of fingers being wrapped around the corners of entryways. Get your blackest veil ready for January 2, 2015, when The Woman in Black 2 will hit theaters.
Late Phases Trailer Makes Werewolves Look Fun Again
Actor Nick Damici faced vampires in Jim Mickle's rocking 2010 horror Stake Land, and now he's battling a werewolf for Adrián García Bogliano's festival surprise Late Phases. The Dark Sky Films production just released a brand new trailer full legitimately enjoyable throwback moments and sweet-looking practical effects. Just saying the words "indie werewolf thriller" conjure up the most awful images, but the sharp-looking Late Phases could be one of the year's sleeper gems. The equally fine throwback poster can be found below.
In Late Phases, Damici plays blind war vet Ambrose McKinley, who moves to a formerly kept-up retirement community at the behest of his son Will (Ethan Embry). Crescent Bay, as it's called, is also the home of a violent series of animal attacks, and even though the patrons initially look at Ambrose as a threat, he's the only one with the brains and brawn to fuck up the creatures tearing the place apart. A series of guitar riffs should be happening right now. Though werewolves are far from my favorite cinematic beast, I'll be checking Late Phases out when it opens its limited theatrical run on November 7th.
Trippy 1970s Indie Blue Sunshine Getting Remade
While the 1980s is currently the decade that Hollywood is obsessed with remaking, director Jeff Lieberman is heading back to 1978 for a remake of the acid-laced horror Blue Sunshine. What's weird about this? Lieberman also wrote and directed the original. He and producer Edgar Lansbury and teaming up with producer Vincent Newman, one of the guys behind We're the Millers and 2012's Red Dawn remake. Kind of a strange teaming, but I'm definitely interested to see what happens here, as this is the rare remake of a film that wasn't a hugely popular release.
Blue Sunshine starred Zalman King and Deborah Winters and focused on a group of Los Angeles murders. The culprits? A group of people who'd taken a particular strain of LSD called Blue Sunshine ten years earlier, but rather than just a couple of crazy flashbacks, this group starts losing their hair and having homicidal urges. I think that's how Ebola works, too. This remake is still in the early stages of development, but expect it to be just as weird and violent, only perhaps with bath salts standing in for bad acid.
Feed the Gods Trailer Hunts for Bigfoot (or Something)
2014 has already given us two Bigfoot-related movies in Eduardo Sánchez's Exists and Bobcat Goldthwait's Willow Creek, and we can now get ready for XLrator's Feed the Gods. Written and directed by Braden Croft (Hemorrhage), Feed the Gods put out a more solid than expected first trailer and poster. While it doesn't seem like this flick's third act will be unpredictable in the least, it's a pretty intriguing set up and it has the advantage of not being a found footage movie. I'll take the security cam footage without a problem.
Brothers Will (Shawn Roberts) and Kris (Tyler Johnson) are dealing with the death of their foster mother when they receive a box filled with clues about their long-lost birth parents. They head to the small town of Tendale, a place with big secrets and a Bigfoot-ish creature lurking in the woods. Then terrible shit happens, obviously. While I didn't get to watch Exists yet, reviews for it have been pretty harsh, and I was severely disappointed in the by-the-numbers Willow Creek. Will Feed the Gods keep up a multi-tiered plotline and spin a better tale out of myths of legend? Find out when it hits VOD on November 25th, with a DVD release date already set for January 7, 2015.
Your Daily Blend of Entertainment News
Assistant Managing Editor
Nick is a Cajun Country native, and is often asked why he doesn't sound like that's the case. His love for his wife and daughters is almost equaled by his love of gasp-for-breath laughter and gasp-for-breath horror. A lifetime spent in the vicinity of a television screen led to his current dream job, as well as his knowledge of too many TV themes and ad jingles.
Your Daily Blend of Entertainment News
Thank you for signing up to CinemaBlend. You will receive a verification email shortly.
There was a problem. Please refresh the page and try again.