The Fear Monger: The Town That Dreaded Sundown May Be The Best Horror Remake In Years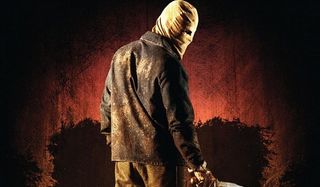 Good day, clawers of all things coffin-topped. Theaters this weekend have something for both those interested in domestic thrillers, as both Sam Miller's No Good Deeds, and Leigh Janiak's festival-fave indie horror Honeymoon are both out now. No, No Good Deeds doesn't really delve in horror, but it puts the stellar Idris Elba that much closer to my genre of choice. Somebody give this guy a machete and send him after teenagers!
In smaller news, release dates are all the rage. Relativity will be putting Tom Harper's The Woman in Black: Angel of Death in theaters on January 30th, during what is generally considered to be the worst time of the year for quality film debuts (and the last few weeks are particularly January-ish.) Mega-producer Jason Blum announced the Blumhouse offshoot BH Tilt, a label that will handle the distribution of horrors that aren't headed for wide releases yet. The companies' first slate includes several long-delayed flicks like Joe Carnahan's Stretch, Joe Johnston's Not Safe for Work, Chandler Riggs' Mercy, Patrick Brice's Creep trilogy, and the film with the trailer you'll find below.
The Town That Dreaded Sundown's First Trailer Looks Goddamned Amazing
Ever since it was first announced, I've had an admittedly unhealthy level of optimism invested in Alfonso Gomez-Rejon's The Town That Dreaded Sundown, a meta-remake-sequel of Charles B. Pierce's fairly terrifying 1976 thriller of the same name. The original was based on a series of real-life murders in Texarkana committed by a sack-headed killer who was never caught; this modern-day update takes place in a world where the original film exists, and the murders start happening anew. Check out "anew" poster below.
Ryan Murphy, one of the guys behind FX's American Horror Story, spearheaded this project as producer, and his touch is all over this trailer. I love that the hook of this version twists the mystery behind who is committing the Moonlight Murders. Are we dealing with a sadistic copycat killer with a digitally manipulated voice, or is it some kind of an all-evil spirit dead-set on making people remember its past work? The whole "he's using this girl as a messenger" tactic is kind of dumb, though Addison Timlin looks like she'll do a fine job as the token scream queen. And in any case, her family history is supposed to be tied to the murders, so I'll buy into it. With a cast that also includes Gary Cole, Denis O'Hare, Edward Herrmann and Spencer Treat Clark, The Town That Dreaded Sundown will hit theaters on October 16th. That's my birthday, so it'd be nice if this movie scared the shit out of me, and also if someone bought me some new boxers.
Tusk Drops New Poster, Inspires Marijuana Tie-In
With the surreal horror Tusk, Kevin Smith has delivered the most unexpected film of his career - and its recent premiere at TIFF predictably split audiences in half (not physically, of course). In the film, a podcaster played by Justin Long takes on a story that leads him up to Canada and into the clutches of a maniac seafarer (Michael Parks) who has a particular fascination for all things walrus. Long's character is forced into a new lifestyle, inspiring the visuals behind the new poster seen above (via BloodyDisgusting). The shadows knows...walruses.
But the poster isn't the only bit of marketing A24 is rolling out in the weeks leading up to the film's theatrical release. The official website allows visitors to take pictures of themselves to add into another mammalian poster. That's me in the above picture, channeling my inner walrus. And if you're someone who imbibes on the sticky icky, the L.A. dispensary Buds and Roses have introduced two strains of medical marijuana inspired by the film, nicknamed "Mr. Tusk" and "White Walrus." Happy...ummm...viewing!
The Houses October Built Trailer Makes Haunted Houses Scary Again
The older I get, the less scary horror movies seem to be, so nothing gets my blood flowing these days quite like an extravagantly produced haunted house. (Can we get those up and running all year long, please?) I couldn't be more excited about Bobby Roe's feature debut The Houses October Built, a movie about people looking for the scariest haunted house in existence. Drawing my excitement out more is the film's first trailer, seen above, which was released along with a poster, an updated synopsis and a release date. Though the found-footage element makes me instinctively wary and the trailer's music is overbearing, this is just the kind of go-for-broke narrative that adds a refreshing spin to the often stale supernatural thriller.
Five friends – Brandy Schaefer, Zack Andrews, Jeff Larson, Bobby Roe and Mikey Roe – all go on a road trip quest to seek out haunts where the terror doesn't hide behind make-up and strobe lights. They find a place in Louisiana where unexplainable things happen, and "it becomes clear that the haunt has come to them." Ahhh!! Evil clowns are always welcome, as are bodies that appear as if from nowhere, but it's that white porcelain doll-looking bitch and her piercing screams that get to me. So let's hope these characters are enjoyable enough that the early part of the movie isn't horrific in an unintentional way. The Houses October Built will hit VOD and begin a limited theatrical run on October 10th. Will this be the next great Halloween flick?
Annabelle Releases A New TV Spot, Gets An MPAA Rating
Everything has a beginning and an end, right? Okay, so some horror franchises feel like they'll never end. Before The Conjuring, and even during it, there was Annabelle, the hideous beast that could stand to dethrone Chucky as cinema's King of the Creepy Dolls. New Line and Warner Bros. released the TV spot seen above, which plays into Annabelle's origins. The film centers on the doll-owning couple (Ward Horton and Annabelle Wallis), who are the victims of a violent home invasion by a group of satanic cult members, whose worst sin is unleashing the evil hidden inside of Annabelle's plastic frame. Check out the full trailer below.
While I won't say it would be impossible for Annabelle to bring real scares with a PG-13 rating, it's encouraging that the film earned an R-rating from the MPAA, the same fate as James Wan's The Conjuring. I didn't find that film really pushed any ratings boundaries, but I'm guessing the "intense sequences of disturbing violence and terror" have a lot to do with that cult bringing the pain to the married couple. I really want to see this doll get up and start stabbing people in the face, too, so I hope that's part of it. It doesn't need to be extremely gory or anything. It just needs to involve this doll doing the evil, rather than just being a ghostly entity. Find out just how terrifying it will be when Annabelle hits theaters on October 3rd.
Cooties Has Shot A Different, Better Ending
It isn't often that a filmmaker is given the chance to go back and make additions to an already completed film. Luckily for first-time filmmakers Jonathan Milott and Cary Murnion, when their film Cooties was picked up by Lionsgate back in January, their chance to do that opened up. A part of that deal eventually included the studio ponying up extra money to go back and film a different ending. An ending that the directors and co-star Elijah Wood, whose SpectreVision label produced Cooties, were more comfortable with on the final project.
Speaking with Twitch, Wood said the initial production's financial restrictions allowed them an ending that they weren't overly happy with. But now the new ending has been filmed and Wood says they're looking at a January release date. Cooties centers on a cannibal zombie virus infecting an elementary school's student body and also stars Rainn Wilson, Alison Pill, co-writer Leigh Whannell, Jack McBrayer and Jorge Garcia. Lionsgate still hasn't given Cooties an official release date yet, but we'll let you know when you can catch it (get it?)
Assistant Managing Editor
Nick is a Cajun Country native, and is often asked why he doesn't sound like that's the case. His love for his wife and daughters is almost equaled by his love of gasp-for-breath laughter and gasp-for-breath horror. A lifetime spent in the vicinity of a television screen led to his current dream job, as well as his knowledge of too many TV themes and ad jingles.
Your Daily Blend of Entertainment News
Thank you for signing up to CinemaBlend. You will receive a verification email shortly.
There was a problem. Please refresh the page and try again.