The Fear Monger: Uncovered Shaun Of The Dead Developments And The Babadook Trailer Terrifies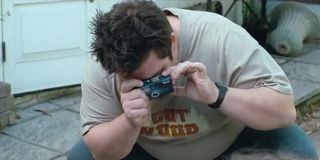 Good day, extinguishers of all things solar. This past week gave us two equally grating slices of horror: Leatherface as a teenager and Let's Be Cops getting released the same week as everything going on in Ferguson, Missouri. To take your mind off all that, check out the limited release of Jeff Baena's zombie comedy Life After Beth, which uses winning performances to bring life to a tonally fluctuating plotline. How is Aubrey Plaza not in everything at this point?
In other news, Boardwalk Empire actor Jack Huston has joined the cast of Pride and Prejudice and Zombies, which is finally on the road to getting made. Saw V and Grizzly director David Hackl is taking to Kickstarter to get partial funding for his next project, the WWI thriller Earthworks. On September 13th, the documentary Unearthed & Untold: The Path to Pet Sematary will make its world premiere in Hancock, Maine as part of a double feature with the original Pet Sematary. Finally, check out Max Landis performing a homemade version of the iconic transformation scene from his father John Landis' An American Werewolf in London.
And now Edgar Wright plays with a bit of photography.
Shaun of the Dead Returns in…This One Picture
Our culture has by and large left behind physical rolls of film in favor of storage-friendly digital photographs. While that's fine and dandy for emailing and social media, there was always something exciting about finding a mystery film roll (or even a disposable camera) in a drawer, potential visual bliss hiding in still form. Case in point: remember that one scene in Edgar Wright's brilliant horror comedy Shaun of the Dead when they first meet Mary, the zombie that they assume is drunk? Ed (Nick Frost) runs back into the house and grabs a camera to grab a camera and – Smile! – he takes a picture or Mary on top of Shaun (Simon Pegg). The image seen above is apparently the very same photo.
The still comes from Edgar Wright's personal Flickr account, and was dug up by Bloody Disgusting. What else was on that roll of film? Peter Serafinowicz in the shower? Dylan Moran and Bill Nighy arm wrestling? Simon Pegg and Spaced co-star Jessica Stevenson making out? Check out the rest of the film roll on the page!
The Babadook's New Trailer Will Babaspook the Shit Out of You
Despite having a name that sounds like a George Clinton side project, Jennifer Kent's feature debut The Babadook has taken audiences by a storm of nightmares during its lengthy festival run throughout the year. Horror fans in the U.S. still won't be able to watch this flick until November, but the U.K. is getting it a month early, thus the legitimately unsettling trailer above. I don't usually get too excited about movies featuring kids afraid of boogeymen, but this looks like a page from a far more disquieting book.
The Babadook centers on the newly widowed Amelia (Essie Davis), whose troubled son Samuel (Noah Wiseman) is in constant fear of a mysterious beast that wants their blood. Though she doesn't believe him at first, a storybook turns up at their house called The Babadook, and it features the very monster that Samuel is so scared of. As his behavior gets worse, Amelia begins to see the evil in the world around her, and she soon realizes that the Babadook might just be a real thing. A real thing with a super-creepy voice. America, get ready for some heavy before-bed reading when The Babadook comes out on November 28.
The Demon's Rook Trailer Resurrects 1980s B-Movie Bliss
Sick of movies where teenagers find a cabin and then get attacked by zombies? What if you added some demons and other assorted ghoulishness to the recipe? Director James Sizemore makes his feature debut with this lovingly made throwback to the practical effects-laden horrors of the 1970s and 1980s. And we're not just talking about gore when we say effects; 95% of the people shown in this trailer were in full makeup and costume, whether they're bloodthirsty zombies or horn-headed demons. It's fucking fantastic, as is the newest poster for the film seen below. (it's admittedly not as good as the painted previous versions, but it's still gorgeous.)
The Devil's Rook takes place in a rural town where an otherworldly portal opens up and all kinds of hell and bloodwater are raised. The only person who can stop it all is a bearded man named Roscoe (Sizemore) who happens to be the son of a demon. So, of course, he turns into a demon himself and starts destroying things. I'd be into this movie even if it was just a bunch of zombies and demons strutting around on a catwalk showing off the superb prosthetics and makeup. Find The Devil's Rook on VOD starting September 30, and then spend all of October wishing more people made movies like this.
Dick Johnson and Tommygun vs. the Cannibal Cop Wraps Production
What certainly has to be the winner of the award for 2014's Greatest Movie Title, John Renna's debut feature Dick Johnson and Tommygun vs. the Cannibal Cop now exists in full as its Buffalo-based production has now been completed, with a few images to give you guys an idea as to where this movie is going. (Hint: even if the images don't work for you, just read the title of the movie again to see where this is going.) Blood!
The movie stars Renna (who played the Mayor in Slime City Massacre, guys) as the Tommygun to Sam Qualiana's Dick Johnson. Both men are detectives trying to take down the other titular madman. Hijinks ensue, presumably. The rest of the cast is made up of Danny Hicks as their captain and Debbie Rochon as a cop who knows what's really going on, plus a whole bunch of Buffalo natives. Will this movie live up to my expectations based solely on its name?
Find out when Dick Johnson and Tommygun vs. the Cannibal Cop finds a way to your eyeballs next year.
Nick is a Cajun Country native, and is often asked why he doesn't sound like that's the case. His love for his wife and daughters is almost equaled by his love of gasp-for-breath laughter and gasp-for-breath horror. A lifetime spent in the vicinity of a television screen led to his current dream job, as well as his knowledge of too many TV themes and ad jingles.
Your Daily Blend of Entertainment News
Thank you for signing up to CinemaBlend. You will receive a verification email shortly.
There was a problem. Please refresh the page and try again.