Will Ferrell And Kevin Hart's Get Hard Should Have Been A Rom-Com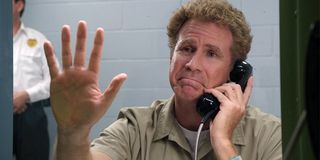 Will Ferrell's latest raucous comedy, Get Hard, has been saddled with quite a bit of undesirable baggage, including accusations of racism, homophobia, and overall asininity. However, to officially celebrate the film's DVD/Blu-ray release today, the magic of contextual editing has overhauled its offensiveness for a new trailer showing that the film was simply trying to prove that "love wins."
If the double entendre of the title, Get Hard, wasn't enough to "arouse" imagery of a relationship between Will Ferrell and Kevin Hart that would have been nothing less than groundbreaking for a comedy like this, it has now been effectively driven home. Yet the material with which it works is filled with salaciously crass concepts that, depending upon interpretation, comes across as enforcing egregious stereotypes, rather than stoking satire. Here, Get Hard comes across not as a standard issue buddy comedy, but rather as a heartwarming romance about a jaded one-percenter embedded in the cutthroat world of investment finance who, despite having Alison Brie as a fiancé, is amorously enamored with his car washer.
Interestingly enough, the re-contextualized cut might have made this video into an effective Oscar clip, had this dynamic actually been reflected in the actual movie. Of course, either barring a sequel in which a radical new relationship is embraced, or a surprising, tabloid-breaking real life development, the prospective Will Ferrell/Kevin Hart romance ("K-Will?") won't leave the confines of this parody trailer. Yet, it's hard to deny that such a twist might have helped the film distinguish itself. Plus, the spin that the video puts on the film's wanton wickedness, while not mitigating its perceived stereotypical strides, might very well have also silenced its politically correct critics.
There's no point harping on what could have been. The film, despite the horrendous harangue of critics looking to find interpretive indignation and social commentary, accomplishes its lofty goals of playing off the comedy stylings of Will Ferrell and Kevin Hart. Sure, the film is innately prejudicial with its premise in which Ferrell's James ignorantly assumes that his car washer, Hart's Darnell, is a former hardened convict simply because he's black, and turns to him as if he was a criminal Mr. Miyagi. However, seeing as James' ignorance is the running joke, and his innocence of the crimes he was accused of committing pretty much the film's focus, it's hard to see those aspects as a social statement in any way. In fact, the film is essentially about his edification.
Missed opportunities for a groundbreaking romance aside, Will Ferrell is moving on to deeper cinematic fare with Tom's Dad and Daddy's Home before rounding a reprisal of his role as Mugatu in next year's Zoolander 2. Kevin Hart, on the other hand, is continuing to run with the buddy cop dynamic style when he re-teams (platonically) with Ice Cube in Ride Along 2, which hits theaters on January 15, 2016.
Your Daily Blend of Entertainment News