New Get Hard Trailer: Watch Will Ferrell Get Stabbed In The Face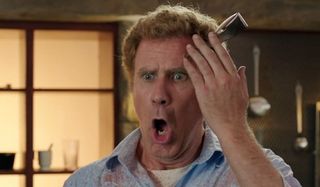 Have you ever wondered what Will Ferrell would do if he got stabbed in the face? Well, wonder no more because in the new trailer for his upcoming film Get Hard, in which he stars with Kevin Hart, that's exactly what happens.
This is Warner Bros. second trailer for Get Hard and it's even funnier than the first. Opening with a nice throwback to early 90's rap, we're treated to a little of Dr. Dre's "Still D.R.E." featuring Snoop Dogg as we get acquainted with our surroundings in a neighborhood that looks like it could be straight out of John Singleton's 1991 film, Boyz n the Hood.
After a few teases we see James King (Ferrell) in his already-infamous, insanely ridiculous, orange vested get-up. He is joined by Darnell Lewis (Kevin Hart) as the two get called out by some of the neighborhood residents. "Hello," says Ferrell's character in his trademark oblivious way. After getting a not-so-friendly response, he follows with, "I don't think they've ever seen a white person before."
We zip back to 30 days prior, where we learn what led James to his present circumstances. A millionaire hedge fund manager, he is sentenced to hard time in prison, after being convicted of corporate fraud. After he is given a stretch of 30 days to "get his affairs in order," he hires Darnell to teach him everything he needs to know to survive in prison. "I could pay you," Ferrell's character pleads, ever so hilariously. Playing on James' stereotypical assumptions that he has been to prison just because he's black, Darnell, who in reality hasn't even received so much as a parking ticket, accepts a cash offer to teach him how to "get hard".
The trailer's funniest and most insane moments come from the mock prison riot portion where things get nothing short of batshit crazy. There are intense strobe lights, bull horns and screaming baboons and when Ferrell's character finally emerges, half-covered in blood, he appears to have a knife protruding from his forehead. He feels fine until he realizes what has happened, at which point he gives another priceless Will Ferrell reaction. Come on you know the one.
In the car, probably on the way to a hospital, he runs through several stages of reaction including, panic, concern, deliriousness and finally delusion, as he attempts to exit the moving vehicle. Needless to say, chaos ensues.
Get Hard stars Will Ferrell, Kevin Hart, Alison Brie, T.I., and Craig T. Nelson. It was written by Jay Martel, Ian Roberts and Etan Cohen, the lattermost who also co-wrote Idiocracy with Mike Judge. This marks Cohen's directorial debut.
Get Hard opens in theaters March 27, 2015.
Your Daily Blend of Entertainment News