Fifty Shades Of Grey Is About To Shatter This Historical Record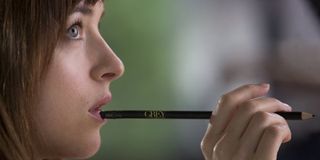 It appears that the Fifty Shades phenomenon has broken a glass ceiling with the waving of a notoriety-infused flogging whip. The book-to-film adaptation's $81.6 million domestic box office weekend (projected to be $90.7 after the President's Day weekend,) added to a $158 million foreign take (unadjusted for inflation), will now earn the film's director, Sam Taylor-Johnson the distinction of helming the highest-grossing debut week for a film directed by a woman. It's quite an achievement, considering the relatively weak presence of women in the upper echelons of the filmmaker industry. However, considering the subject matter, could it a dubious one?
According to The Hollywood Reporter, Fifty Shades of Grey will close out the weekend with a staggering $248.7 million global total. The previously cited North American weekend number of $81.7 million will mark Taylor-Johnson's place at the top of the debut numbers for female directors.
Ironically enough, her arrival at that proverbial mountain summit will actually displace an oddly-related property in the original Twilight. The kick-off to another popular culture phenom would, to the chagrin of many, have the tween demographic swooning for vampires, werewolves and creatures from the Black Lagoon. (Okay, maybe not that last one.) That film, directed by Catherine Hardwicke, would generate a then-impressive $69.6 million back in November of 2008. The "irony" in this is that Fifty Shades was actually originally conceived as Twilight fan fiction posted on community websites. After being deemed too sexually explicit for Twilight's generally young audience who might have been shocked to see Edward and Bella depicted doing… THAT stuff, James pulled the story.
Fatefully, she would expand the story, alter the characters and context, until it was transformed into the bevy of BDSM we know today. Thus, in an odd way, "the student" in James would become "the master," seemingly set to overtake Stephenie Meyer's film franchise; especially with the prospect of Fifty Shades sequels. (That's as far as we'll go with the "master" metaphor.)
Riding a perfect wave created by years of hype generated by E.L. James' 2011 book of the same name, Fifty Shades of Grey quickly gained the reputation of illustrating previously unspeakably bizarre sexual encounters in the same way that War and Peace has a reputation for being a long-ass, intimidating book by Tolstoy that pseudo-smart people pretended to have read. However, its depiction of the relationship between main characters Christian and Ana has been heavily criticized on a number of levels, notably for the idea of Christian's violent, oppressive dominance. While there is a counter-argument positing that Ana is actually in control (especially with the film's ambiguous ending), it still raises the question about what it says about society that the top-grossing debut from a female director ended up being THIS movie.
However, regardless of where one stands on the property's depth issues, the money is certainly talking. In that sense, one could surmise that, while the method with which this landmark was reached was less than ideal from a substantive, intellectual aesthetic, it has nevertheless been reached. Sam Taylor-Johnson's success may serve to convince higher-up's in Hollywood that more female directors can be hired for big-money projects. Fifty Shades of Grey's feminist detractors might be able to take solace in this aspect.
Your Daily Blend of Entertainment News
Thank you for signing up to CinemaBlend. You will receive a verification email shortly.
There was a problem. Please refresh the page and try again.