The Fifty Shades Of Grey Ending: The Main Reason It Didn't Work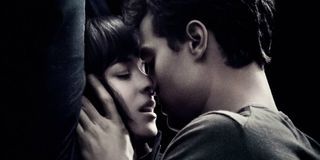 The Fifty Shades of Grey movie debuted in theaters this past weekend and it made some serious box-office dough. But that doesn't mean it was all it was cracked up to be. Among the controversial and most talked about moments from the film adaptation of the best-selling erotic novel was the finale. Many moviegoers were perplexed by the abrupt ending. It left the story of Anastasia Steele (Dakota Johnson) and her billionaire BDSM lover Christian Grey (Jamie Dornan) open-ended, and it also varied from the novel. As a standalone installment of a larger trilogy, it worked just fine and was even preferable to the book's rendition. But when taking it as a standalone film, there were a few grievances, and it ultimately doesn't work as a conclusion to this story.
Before we get into the nitty gritty details of the ending, this is your one and only warning of potential spoilers (though, the title of this article should've already tipped you off). So proceed with caution.
In the film's ending, we see Anastasia once again trying to break through Christian's emotional wall to discover why he needs to cause her pain to be sexually satisfied. When he still remains defensive and closed off, she asks him to show her his worst, so she can experience just how bad things will get should she choose to remain in this relationship. Taking her to his playroom one last time, he strips her naked and bends her over so as to whip her fiercely with a belt. "I'm going to whip you six times and you're going to count with me," he says. The experience ultimately proves to be too physically and emotionally painful for Anastasia, and she proclaims that he will never strike her like that again.
Later that evening, Christian attempts to comfort her as she lays crying in the room allotted to her as a submissive. When she tells Christian that she's fallen in love with him, he responds by saying that she can't do so. The next morning, Anastasia leaves Christian seemingly for good. He even attempts to run to her before she leaves in the elevator, but she forcefully commands him to stop. The last words they exchange to one another before the doors shut are each other's names, reminiscent of the first time they meet in the beginning of the film.
Understandably, this abrupt ending was a source of confusion among some moviegoers. After watching this two-hour love story play out, everything quickly fell apart in the last half hour. However, this was more or less what happened in the novel, disregarding some extra details. On the page, E.L. James extended this final interaction to show Anastasia telling Christian, "I can't do this." It then describes how she drives home in tears before collapsing onto her bed for her full emotional breakdown. Translating this ending to the screen was one of the more controversial points of contention between James and the film's director Sam Taylor-Johnson. James was afforded a large amount of creative control over the film, and, as such, the film's ending was the one she fought to use.
Looking at Fifty Shades in terms of the larger three-film storyline, this was the right call. The drawn-out details were unnecessary, and audiences could already predict Anastasia's inevitable breakdown in both the tears trickling down her face as the elevator doors closed and how she reacted to most things over the course of the film. In comparison to some of the more extended scenes, this was a refreshing break. However, we also have to look at this as its own film. While both Johnson and Dornan have signed on for more Fifty Shades fun, Universal was holding off on making an official decision until the box office results were in.
If there are no more installments of the Fifty Shades film franchise, which at this point seems unlikely, the film's final sequence doesn't quite fit with everything else we saw. BDSM is already unfamiliar territory for many of us (at least, those of us who aren't hiding our own sex dungeons in the back closet). The bulk of the film introduced us to this world in the uncomfortable setting of a crowded theater, and it glamorized the dominant-submissive relationship by appealing to more female-friendly sex scenes. Over the course of a few minutes, though, everything we had come to know about the softer side of BDSM was shattered as Anastasia is frozen in pain under the crack of a belt. In these minutes, BDSM went from an intimate and stimulating experience to an abusive one. While this juxtaposition makes for an interesting story — if that's your thing — barely any time was given to the repercussions of this darker side.
The same goes for the relationship itself. Fifty Shades depicts an extended meeting and wooing process before slowly introducing its virgin character and audience into this sexual world. Then, it all comes to an end. As a result, the story overall was lopsided with no clearly marked ultimate goal in mind. As a standalone movie, could it be considered a metaphor for the quickness and harsh realities of first loves? I'm not sure, because, ultimately, Fifty Shades was clearly made to adhere to the book's trajectory in setting up what happens next. Without at least another sequel, it merely exists.
While watching the film, I couldn't help but take notice of its roots in Twilight fan fiction. From the couple walking down a path in practically the same woods as Edward and Bella to Christian protecting his love from aggressive men, these references were practically forced down our throats. But one thing Twilight has over Fifty Shades is that it is, for better or worse, a complete story. Will the ending of Fifty Shades ever make sense in a larger context? Shouldn't it have been more concerned with making sense in this film?
Your Daily Blend of Entertainment News