Fifty Shades Of Grey's Producer Has No Sympathy For Dakota Johnson And Jamie Dornan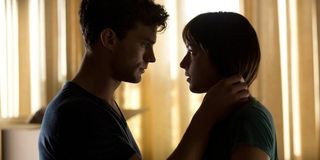 The phenomenal box office success of Fifty Shades of Grey was all the proof one needs that a sequel is on the horizon, but that hasn't stopped behind the scenes drama from cropping up. One such example of this surrounds stars Dakota Johnson and Jamie Dornan, who were reportedly paid rather little considering the money the movie grossed, and are reportedly set to negotiate for what will allegedly be huge bumps in pay for the sequel. However, one of the film's producers isn't exactly feeling their (non-erotic) pain in this process. In fact, he's thinks they should be grateful for having landed the gig in the first place. Shots fired.
In an interview in the latest edition of The Hollywood Reporter , producer Dana Brunetti (Captain Phillips, The Social Network) had some choice words regarding the idea of stars Dakota Johnson and Jamie Dornan aspiring to receive substantial raises to continue their involvement with the future of Fifty Shades of Grey. Not pulling any punches, Brunetti isn't buying into the idea that the on-screen exposure required of the two stars warrants a bigger piece of the sequel's box-office pie. As Brunetti states,
While the exact details or possible long-term commitments of "the deal" that Dakota Johnson and Jamie Dornan made are not publically known, it was reported that the duo, who literally left it all on the big screen, each took home $250,000 with some undisclosed tiered bonuses and no backend compensation. While it sounds like and amazing payday, the film is currently holding at the box-office at $558 million worldwide. This means that at the current box-office number, their $250,000 salaries gave each of them about .045 percent of the total gross. That's kind of a raw deal for the couple who took a huge one for the team and did… that stuff on the big screen, for roles that could indelibly shape the course of their careers.
Of course, Dana Brunetti is speaking with the swagger of a no-nonsense kind of taskmaster and a whiz kid of a producer who, at 41, has seen more than once how the gift of exposure can sometimes serve as all the compensation one needs coming off a successful box-office venture. At the same time, his words almost seem to be spoken with the idea that there is already a sequel agreement in place. While we have no way of knowing that, Brunetti does seem to be exceptionally outraged by a rather unsurprising, normal concept that stars of a controversial, financially successful film would negotiate for a bigger cut of the till for the sequels.
Regardless, potential franchise sequel, Fifty Shades Darker is reportedly in a developmental standstill, with no production or release date currently set. However, it will most likely see the light of day before Christian Grey's red room requires an IKEA update.
Your Daily Blend of Entertainment News
Your Daily Blend of Entertainment News
Thank you for signing up to CinemaBlend. You will receive a verification email shortly.
There was a problem. Please refresh the page and try again.