Who Built The Fifty Shades Playroom? SNL Knows In This Clever Video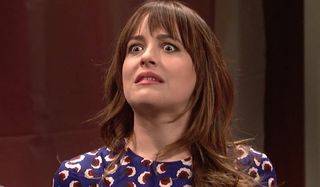 Ever since seeing Fifty Shades of Grey, first-time BDSM voyeurs moviegoers were plagued with loads of questions. What did Christian Grey's former dominant do to him to make him such a freak in the boudoir? Why can't he ever talk about this fetish to anyone outside of a non-disclosure agreement? And, most important, who the hell actually built his notorious playroom? SNL attempts to answer that question in a hilarious sketch that got cut from Dakota Johnson's episode.
If you've seen James Franco's SNL documentary on Hulu, or are well-read in the show's behind-the-scenes process, then you know the writers and actors come up with a ton of sketches. Unfortunately, due to time constraints and last-minute edits, the final rundown is not set in stone until the sketches are actually performed live on camera. "New Playroom" was one that was cut from Johnson's episode because there wasn't enough time to air it. However, NBC released the sketch in its entirety online for your enjoyment.
In "New Playroom," Jamie Dornan is replaced by Kyle Mooney as Christian Grey and Johnson reprises her role of Anastasia Steele. After the events of Fifty Shades, she realized that she does get a kick (or, rather, a kink) out of Christian's out-of-the-norm sexual activities. So she's come back to him for the sequel Fifty Shades Darker, and just in time to meet the contractors overseeing the renovations on the playroom. Niko (Bobby Moynihan) and Sal (Taran Killam) Renzetti — otherwise known as The Renzetti Brothers — know what they're doing. After all, they were the ones responsible for building the original room. Thanks to Anastasia, they and their team have all signed non-disclosure agreements. However, this also means that they're not afraid to throw a few jabs at the couple's unique lifestyle.
They were supposed to be finished with the new (and improved?) sex playground, but because Christian is a man of singular tastes, they had to order a lot of custom pieces. There are now floating shelves and special drawers for their "dildis," "whippers," "bally gags" and "booty beads." There's also a pull-down spank board with 12 weaner holes, a special seat with multiple dildos for Anastasia's derriere, and some things called "The Punishers" that strike fear into Ana's heart.
We guess Anastasia will have to enter a new wave of negotiations with these new additions if Fifty Shades Darker ever comes to fruition.
Your Daily Blend of Entertainment News
Your Daily Blend of Entertainment News
Thank you for signing up to CinemaBlend. You will receive a verification email shortly.
There was a problem. Please refresh the page and try again.