Kim Cattrall Slams Fifty Shades Of Grey, Says Jamie Dornan Doesn't Look Like A Real Man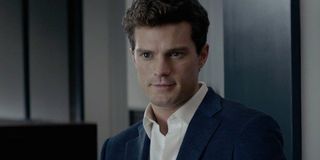 The film adaptation of Fifty Shades Of Grey has inspired its fair share of loud detractors. Some thought it was too raunchy, some didn't think it was raunchy enough, and then there were other moviegoers who just thought that it was a tedious melodrama packed with hammy acting, and a weak plot that cynically exploited hollow sex appeal to generate hundreds of millions of dollars at the box office. As it turns out, one of the film's harshest critics is Sex and the City actress Kim Cattrall, who has not only claimed not to not have interest in seeing the film, but has blamed that lack of interest on male lead Jamie Dornan.
The actress, whose Samantha character in the aforementioned beloved television series and films was particularly well-versed in the act of love-making, recently told the Independent that director Sam Taylor-Johnson's recent adaptation of E.L. James' hugely popular novels never appealed to her simply because of the Northern-Irish actor who was chosen to play the movie's titular character. Cattrall explained,
At this point you may feel tempted to feel some sympathy for Jamie Dornan, but I wouldn't be too concerned if I were him. This is because who Cattrall would choose to play the role of Christian Grey is far more out-of-left-field than any one of us could have guessed. If she'd been in control of casting Fifty Shades Of Grey, there would have been only one man that she would have deemed fit to portray Christian Grey: Mr. Brendan Gleeson.
Yep, you read that right, Brendan Gleeson. Not his 31-year-old, Star Wars: The Force Awakens starring son Domhnall Gleeson, but the 59-year-old who portrayed Mad Eye Moody in Harry Potter so seamlessly that only a handful of us probably noticed any discernible physical differences.
Now just imagine that man doing half of the stuff that Jamie Dornan did in Fifty Shades Of Grey. I'm going to stick my neck out and say that if Brendan Gleeson had been cast, then the erotic drama probably wouldn't have matched the $528.8 million it currently has in the bank.
Still, I'm probably not the only one who is now practically hoping that the ongoing contract discussions between Jamie Dornan and the studio breakdown so that we can see Brendan Gleeson and Kim Cattrall takes their places for Fifty Shades Darker and Fifty Shades Freed. Just as a cinematic experiment. Then we'd be able to see them get up to stuff like this:
While I didn't have any issue with how manly Jamie Dornan was in Fifty Shades Of Grey, I do have to admit that I found his portrayal, on the whole, rather limp, as he failed to bring Christian Grey to life in an intriguing or even competent fashion. He looked damn good on-screen though. Which, in the end, is all that really mattered.
Your Daily Blend of Entertainment News
Thank you for signing up to CinemaBlend. You will receive a verification email shortly.
There was a problem. Please refresh the page and try again.