Final Star Wars: The Force Awakens Trailer Is Explosive, Amazing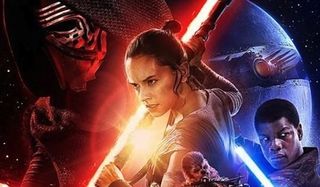 We are now officially less than two months way from returning to that galaxy far, far away with Star Wars: The Force Awakens. If the prospect of seeing Luke, Leia, and Han, along with a slew of other returning and new characters, adventuring across the depths of space isn't enough to get you excited, Lucasfilm just dropped a stunning new trailer that should do the trick. Check it out below.
This trailer debuted during halftime on tonight's Monday Night Football game, offering up new footage from Star Wars: Episode VII. Among the new pieces of goodness we were given are our first sampling of Adam Driver's performance as Kylo Ren, a brief glimpse of the destruction the Starkiller Base could and/or will inflict on one poor planet, and a lot more of Daisy Ridley's Rey in action. Most curiously, it sounds like we've also gotten our first taste of Lupita N'yongo's performance as a new, undisclosed character; as her voice comes in for the opening and closing lines of the trailer.
This new preview of Star Wars: The Force Awakens follows the recent release of the new poster for the film, which you can check out in all of its light saber gloriousness here. Though speaking of that new poster, it looks like the Starkiller Base is, in fact, modeled after the Death Star on purpose. It turns out Kylo Ren is a Darth Vader fanboy, and he's obsessive to the point of replicating Vader's strategy of building a huge, possibly vulnerable, weapon for the universe to fear, and the Resistance to possibly destroy.
Unfortunately, tonight's trailer was light on two of the characters we've been hearing a lot about over the past couple of months: Oscar Issac's Poe Dameron and Mark Hamill's Luke Skywalker. Considering how the former was in Kylo Ren's clutches in the trailer, and how Han Solo was talking about the Jedi and Sith as if they were legends that sank into the sands of time, there's probably some really good explanations in store for the future. And that's a future we absolutely cannot wait for, as this final trailer has us psyched to no belief!
With the end of the supposed line in sight, all we'll really have to look forward to from Star Wars: The Force Awakens is the TV spots and any product launches that happen between now and the December release of the film. While we're cautiously optimistic about what J.J. Abrams time in the director's chair will yield, we can't help but trend towards the lighter side of the Force.
Star Wars: The Force Awakens hits theaters on December 18, but tickets for the massively anticipated film should now be available for purchase. Though be warned, some sites are already crashed due to high volume, so keep trying - and may the Force be with you!
Your Daily Blend of Entertainment News
Thank you for signing up to CinemaBlend. You will receive a verification email shortly.
There was a problem. Please refresh the page and try again.