Movie Theaters Can't Handle The Demand For Star Wars: The Force Awakens Tickets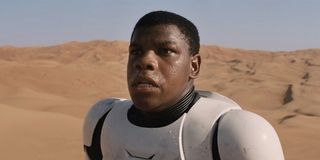 Unless you're just waking up from a coma, you probably know that there's a new Star Wars movie on the way later this year. A new trailer is scheduled to hit later today, and anticipation is reaching a fever pitch. In fact, still two months out, theaters are already having problems keeping up with the demand for tickets.
According to The Hollywood Reporter, theater chains across the U.K. have been having a difficult time dealing with advance orders for Star Wars: The Force Awakens tickets, and a number of their websites have crashed under the pressure. At least three theater companies — Odeon, Picturehouse, and CineWorld — have all reported that there have been issues with their websites and that customers have had issues attempting to purchase The Force Awakens tickets, which just went on sale there.
A representative for Picturehouse called the demand "unprecedented." Another chain, Vue, which has 80 theaters and is the third biggest exhibitor in the U.K. — and apparently one that hasn't had any issues with their sales platform at the moment — reportedly sold 10,000 tickets within 90 minutes of them becoming publicly available. This marks the "biggest first hour of advance ticket sales" that the company has seen thus far in 2015, and a spokesperson remarked that it usually takes weeks to reach this number.
If you're in the U.S. and waiting to buy tickets for The Force Awakens, they go on sale later this evening. The new trailer debuts at halftime of the Monday Night Football game between the New York Giants and the Philadelphia Eagles, and tickets will apparently go on sale after that whips us all into a frenzy. Let's hope that the U.S. ticket retailers and theater chains have taken a look at what is happening across the pond and took steps to ensure there aren't similar issues.
Box office expectations for The Force Awakens are already insanely high. Some have predicted it could have the biggest global opening ever, and one number that has been bandied about is $615 million, just for the debut weekend. Jurassic World currently holds the high mark, showing up at the bank Monday morning after release with $524 million, and as that movie went on to gross $1.6 billion worldwide, Lucasfilm must be drooling and tenting their fingers.
The J.J. Abrams-directed film picks up 30 years after the events of Return of the Jedi. The Rebel Alliance has become the Resistance, the Empire has morphed into The First Order, and along with a number of returning characters like Luke Skywalker, Han Solo, and Princess Leia, we'll get to meet new faces like Rey (Daisy Ridley), Finn (John Boyega), Poe Dameron (Oscar Isaac), and many more. What we've seen thus far looks pretty damn awesome, and we can't wait to get a new look tonight.
Star Wars: The Force Awakens opens on December 17 in the U.K. and December 18 in the U.S.
Your Daily Blend of Entertainment News
Thank you for signing up to CinemaBlend. You will receive a verification email shortly.
There was a problem. Please refresh the page and try again.