First Look At Disney's Live-Action Jungle Book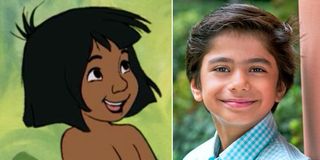 Jon Favreau's upcoming big-budget Disney film, The Jungle Book has just released its first official concept art photo featuring Mowgli and Bagheera the panther.
Though we don't have a taste at how realistic the animals will look, we do get a more true-to-size proportional image between the young boy and panther then we have seen in some other versions.
Actor and filmmaker Jon Favreau is working with Walt Disney Pictures to take on the classic Rudyard Kipling adventure once again. The live-action Jungle Book adaptation is currently in production and set to release on October 9, 2015. Favreau has talked in depth about the remake and his own excitement for the project. He confirmed that it would have some mythic elements to it, and elaborated in an interview with Collider stating:
That original Disney musical animated Jungle Book that taught us all about the "bare necessities" is a beloved film that was first released in 1967. Though there has been a live-action adaption after the original film, it wasn't able to bring a visually realistic version to the screen that our technologies these days certainly can.
The new film has cast Scarlett Johansson to voice Kaa, Christopher Walken to voice King Louie, Bill Murray to voice Baloo, Lupita Nyong'o to voice Rakcha, Ben Kingsley to voice Bagheera, and the adorable Neel Sethi as Mowgli, pictured below.
The star-packed cast paired with the Disney name is sure to do well in theaters. But, there is also another live-action Jungle Book film set to release in the next couple years that will try to take a different and deeper approach to the Kipling story (as opposed to a Disney personality). Warner Brothers' Jungle Book: Origins has been pushed a year back, now scheduled to release on October 6, 2017, probably to stray further away from the release date of Favreau's The Jungle Book, but the WB version will be directed by the live-action master, Andy Serkis. It also it star-studded with Christian Bale, Cate Blanchett, Benedict Cumberbatch, and Naomie Harris. While the two movies are bound to be incredibly different, the question remains, do we really need two Jungle Book movies?