Jon Favreau, Bill Murray And Christopher Walken Surface In Jungle Book Selfies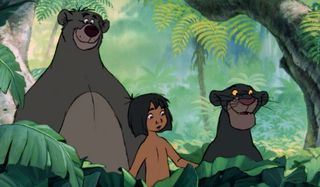 Post by Jon Favreau.
After the critical darling that is Chef, Jon Favreau is now in production on the live-action remake of Disney's The Jungle Book. And he can't wait to give us a look at his cast, which boasts Bill Murray, Christopher Walken and newcomer Neel Sethi.
The image up top Favreau shared on Facebook. As you can see, it's a selfie of the The Jungle Book director alongside his Mowgli and Baloo, which was hinted by the caption "The Bare Necessities #junglebook."
This is first picture of Sethi we've seen since he was first cast last July. The 10-year-old from New York was one of countless kids who auditioned for the hero of Rudyard Kipling's The Jungle Book. Upon his casting, Disney released a picture of the adorable kid that even featured Mowgli's signature flyaways.
While The Jungle Book will mark Neel Sethi's feature film debut, the green child actor will be supported by a cast of storied stars, that include Bill Murray (pictured above), Idris Elba, Ben Kinglsey, Giancarlo Esposito, Lupita Nyong'o, Scarlett Johansson and Christopher Walken (pictured below).
Post by Jon Favreau.
This image was captioned simply "The King #junglebook," reflecting Walken's role as the wild King Louie. This loony character could be a defining element that will set Disney's adaptation of the Rudyard Kipling classic apart from Warner Brother's Jungle Book: Origins. While we made a comprehensive visual breakdown of the Who's Who of these dueling Jungle Book movies, no one has been cast to face off against Walken's King Louie.
It seems--as one astute commenter pointed out--this could be because WB's version is looking to stay loyal to the source material, where there was no King Louie. Disney's version will more likely be following along the lines of their jaunty 1967 animated Jungle Book. Though it has not (yet?) been stated that Favreau's live-action take--which will employ CGI animals in place of hand-drawn ones--will be a musical. But with Walken on board, we'll keep our fingers crossed for some orangutan dancing. For evidence of his dancing abilities, we'll direct you to page 2 of this article.
Disney's The Jungle Book is destined to hit theaters on October 9th, 2015. Jungle Book: Origins will follow on October 21st, 2016.
Staff writer at CinemaBlend.
Your Daily Blend of Entertainment News
Thank you for signing up to CinemaBlend. You will receive a verification email shortly.
There was a problem. Please refresh the page and try again.