First Look At John Cusack As Edgar Allan Poe In The Raven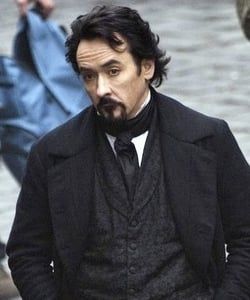 Any literature fan knows about the troubled life led by 19th century master of the macabre, Edgar Allan Poe. After a short life plagued by alcoholism the man was found in the streets shortly before his death, delirious, only to die soon after saying, "Lord help my poor soul."
Over a year ago we learned that director James McTeigue was working on a film about the author, chronicling his search for a serial killer whose murders mimic those in Poe's own stories. We then learned that John Cusack, who has been known to play an alcoholic depressive here and there, signed on to take the lead role. And today, Gawker has our first look at an historic icon reborn, as an image of Cusack on set for The Raven has leaked online.
There couldn't have been a better photo taken to sell the character. It's crisp and rainy and although you can see some crew members' legs, it feel very authentic. If ever there were trepidation about how Cusack would look in the role, this should squash it.
The only other details we have on The Raven are that Alice Eve and Luke Evans have also joined the cast, but that doesn't give us too much. Stick around for more details as the film nears its 2011 release.
Your Daily Blend of Entertainment News