Will Forte Playing A Pot Dealer In Key And Peele's Keanu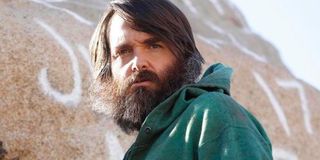 The upcoming film Keanu, showcasing comedy duo Keegan-Michael Key and Jordan Peele, has just added a major comedic force to the growing ranks of its cast. It is being reported that Will Forte will hop on board the caper comedy as an eccentric, unconventional entrepreneur of sorts.
According to a scoop from The Hollywood Reporter, Forte will be cast in next year's Keanu as an unnamed character described as a low-level pot dealer with a fixation on black culture. The character played by Peele will apparently be the only black person he knows. It's a quixotic role that seems to carry a vibe similar to Jamie Kennedy's in Malibu's Most Wanted.
Yet, for all the absurdity of the description of Forte's character, it falls in step with the premise of the film, which will be directed by Peter Atencio. Key and Peele will play best friends who plan to infiltrate the gang of a dangerous drug kingpin played by rapper Method Man. In order to accomplish this ill-advised venture, they go undercover as drug-dealing gangsters amongst the murderous narcotics-selling empire. Why, might you ask, are they doing this? Well, it's not to bring down a parasitic, evil operation for the entreaty of justice, but rather to rescue their stolen kitty cat.
For Forte, the role, despite its potential ludicrousness, represents an increasingly rising stock for the former 10-year SNL player. His first moment atop a marquee, 2010's MacGruber, may not have been ideal for him or its director, Jorma Taccone, but Forte has rebounded as of late. Besides turning some heads with a dramatic performance in 2013's Nebraska, he's been making waves this year with his Fox television vehicle, The Last Man on Earth. Plus, Forte will also deliver some apparently controversial lines in Adam Sandler's embattled Netflix-exclusive movie, The Ridiculous Six.
The curious title, Keanu, refers to the name of the film's finagled feline. However, the equally-obvious evocation of actor Keanu Reeves might also contain an additional layer fitting into the film's described premise. Reeves' 2014 film, John Wick, also involved a character who recklessly throws himself into the face of mortal danger against evil gangsters motivated by the eccentric reason of avenging a pet puppy. The "Keanu" reference could simply be highlighting the loose John Wick parallel.
Regardless, Keanu will represent a big moment for Key and Peele, as it will be the first feature film to directly showcase the signature partnership they established as cast members of MADtv and on their popular Key and Peele sketch show on Comedy Central. The layout of the film seems to promise loads of laughs as the out-of-their-depths duo find themselves tangling with seriously dangerous, potentially deranged degenerates. They will also be joined by Gabrielle Union, who will play the wife of Key's character. Adding Will Forte to the mix will only liven up the laughs.
Keanu looks to possibly reap stealthy, Liam Neeson-esque retribution in reaction to an egregious cat-napping when it hits theaters on April 22, 2016.
Your Daily Blend of Entertainment News
Your Daily Blend of Entertainment News
Thank you for signing up to CinemaBlend. You will receive a verification email shortly.
There was a problem. Please refresh the page and try again.