Key And Peele's Substitute Teacher Movie Just Took A Big Step Forward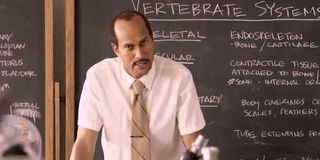 Sketch comedy is wildly hit and miss, and in an era where the big gun, Saturday Night Live, is up and down, Key & Peele has been delivering consistently for the last four seasons. Now stars Keegan-Michael Key and Jordan Peele are one step closer to bringing one of their most popular skits to the big screen.
Deadline reports that Paramount purchased the rights to a pitch based on the sketch Substitute Teacher. Last fall, the duo revealed that they were talking to the studio about adapting their bit that has received more than 72 million YouTube hits, but nothing more has been heard until now.
The video spoofs the hard-ass teacher subgenre, as a new substitute teacher named Mr. Garvey (Key), who taught for years at a rough inner city school, takes attendance in a classroom full of upscale white students and refuses to take any of their shit - real or imagined. Check it out for yourself if you haven't already; it's a damn fine way to spend a few minutes.
Keegan-Michael Key is set to reprise his role as Mr. Garvey in the film, while Jordan Peele will play another teacher - a bitter rival who has his mind set on becoming the students' favorite. We'll have to see how this conflict plays out, since I doubt Mr. Garvey has much interest in an inter-faculty popularity contest.
As with just about every movie of this ilk, one that looks to take a tight, short bit and expand it exponentially, you have to wonder how Substitute Teacher will fare in the transition. For each success like Wayne's World, you wind up with a number of less-than-stellar movies like Night at The Roxbury, Ladies Man, or Superstar. You can have a brilliant concept for a three or four minute skit, but that doesn't mean it will translate well to a longer format.
Rich Talarico and Alex Rubens, writers and co-producers on Key & Peele, are handling the script, and are presumably going to try to avoid the pitfalls of previous sketch expansions. They're teaming up with Shawn Levy's 21 Laps production banner, which has a pair of recent hit comedies under its belt in Night at the Museum: Secret of the Tomb and Alexander and the Terrible, Horrible, No Good, Very Bad Day, so hopefully they'll be able to keep things on track.
As their series continues to grow in popularity, Key and Peele are in higher and higher demand. They've been writing a script for a new Police Academy project, and though they may not appear in the film, they are serving as producers. Additionally, they have Keanu, about a pair of friends who infiltrate a drug dealing ring in order to retrieve a stolen cat, set to film soon (That idea also sounds like one of their sketches). Key & Peele Season 5 is scheduled to debut this July on Comedy Central, and you can bet we'll be seeing more and more of both of them as they continue to gain recognition.
Your Daily Blend of Entertainment News