Fox Acquires Rights To Fancy Nancy Book Series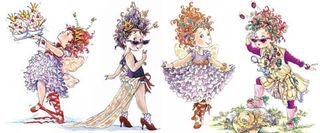 Today Fox took the first-step in crafting a new kid-friendly movie franchise by purchasing the rights to Jane O'Connor's picture book series Fancy Nancy. It's a shrewd move on Fox's part, since this particular children's book series has already spawned 36 different titles, not to mention a wide world of correlating merchandise. Each story centers on the sassy title character, a young girl with an ardent affection for donning tiaras, bows and boas, and generally making the world around her fancier. But Nancy's no polished princess. She's an excitable child with an outrageous style all her own that has helped earn the Fancy Nancy books international notice and acclaim. Aside from becoming a New York Times Best Seller, the first Fancy Nancy title also won a bevvy of awards and was published in 17 different languages. Moreover, the series has sold more than 17 million books to date. Simply put, Fox has bought a hot property.
Showblitz reports Fox has entrusted Shawn Levy of 21 Laps to develop Fancy Nancy into a family-friendly feature, likely in the vein of his blockbuster directorial efforts Night at the Museum and Night at the Museum: Battle of the Smithsonian. There's no word on whether Levy plans to make a live-action adaptation or an animated film from the Fancy Nancy inspiration, but based on his past works, it seems the former is a safer bet.
Personally, I'm curious to see what how Fox and Levy will translate this precocious fashionista to the big screen, but worry that the spark of these unabashedly girly books will be lost by Levy, whose last effort was the dismally received robot-fighting action flick Real Steel. Still, maybe Levy only plans to produce, as he is for Ben Stiller's summer release Neighborhood Watch. If that's the case, let's hope he brings in a director with a vibrant sense of fun and whimsy to their work, like P.J. Hogan (Peter Pan), Amy Heckerling (Clueless), or Vicky Jensin (Shrek).
Your Daily Blend of Entertainment News
Staff writer at CinemaBlend.