France Selects The Intouchables To Contend For Oscar Gold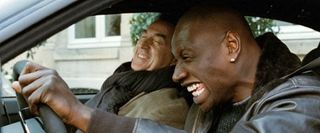 Last year at the Academy Awards, the big winner was The Artist, the silent romantic drama from French writer-director Michel Hazanavicius that took home five Oscars, including coveted wins in Best Director and Best Picture. Though the film was set in Hollywood on the verge of the emergence of talkies, it starred French performer Jean Dujardin, who beat out American A-listers Brad Pitt and George Clooney for the Academy Award of Best Actor. Basically, it was a big night for France.
It seems unlikely such a feat will be repeated by a French feature this year, but the nation has high hopes of securing a win for Best Foreign Film with The Intouchables. THR reports the cross-culture comedy that centers on the unlikely friendship that emerges between a recently crippled aristocrat and his ornery ex-con caretaker has officially been selected as France's submission for the 2013 Academy Awards. The feel-good drama based on a true story beat out Jacques Audiard's follow-up to the Oscar-nominated A Prophet, Rust and Bone which stars Oscar-winner Marion Cotillard as a killer whale trainer struggling to cope after a terrible accident.
While Rust and Bone is generating predictable buzz for Cotillard's performance—let's face it, she's essentially incapable of being anything less than extraordinary—The Intouchableshas also been widely praised, garnering acclaim that includes 9 César Award nominations and one win for star Omay Sy. It's also raked in nearly $370 million worldwide making it the highest grossing French film to date. Plus, Deadline recently reported that with more than 23.3 million tickets sold internationally, The Intouchables has beat Amelie's long standing admissions record. In short, selecting The Intouchables as their contender seems a no-brainer for France. But whether or not it will be able to beat out contenders yet to be announced from other nations remains to be seen.
Your Daily Blend of Entertainment News
Staff writer at CinemaBlend.