Frank Darabont Describes His Take On Godzilla As 'A Terrifying Force Of Nature'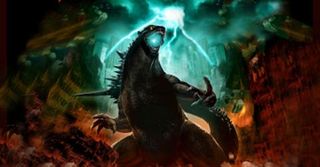 Frank Darabont has proven himself a skilled filmmaker and storyteller when it comes to the work of Stephen King and Robert Kirkland, but his next big effort takes him into uncharted waters, a.k.a. kaiju territory. Earlier this month it was revealed that the Shawshank Redemption director had been hired by Legendary Pictures and Warner Bros. to rewrite the script for the upcoming Godzilla reboot from director Gareth Edwards (Monsters). But what does Darabont have in mind for the giant Japanese monster? What can we expect?
iO9 recently had the chance to sit down with the filmmaker (along with Being Human star Sam Witwer and poster artist Drew Struzan) and took the opportunity to pry a little about Darabon't latest project. Beginning on the subject of Godzilla's subtext and origin, the writer/director noted that original movies featured Godzilla as a metaphor for the atomic bombings in Hiroshima and Nagasaki, while in the later one's "he became Clifford the Big Red Dog." With his script, however, the context and tone will be changing again.
"What we're trying to do with the new movie is not have it camp, not have it be campy," Darabont told the site. "We're kind of taking a cool new look at it. But with a lot of tradition in the first film. We want this to be a terrifying force of nature. And what was really cool, for me, is there was a very compelling human drama that I got to weave into it. It's not that cliched, thinly disguised romance or bromance, or whatever. It's different, it's a different set of circumstances than you're used to seeing. And that's tremendously exciting as a writer when you're asked to do something else."
He also confirmed that the new movie will take on an allegorical meaning, but didn't want "to give it away." But for those of you afraid that the film will try and beat you over the head with a social message, leave your concerns behind. "I love leaving a few crumbs on the table for the audience to determine what they think," Darabont explained. "Let them bring something to it as well. That's why a movie like The Green Mile is so satisfying or why The Mist is so satisfying to me. Because it stirs their participation and they have interpretation. I've heard metaphors that people apply to Shawshank Redemption, for example, that are fantastic that I never, ever would have thought of."
Godzilla is currently slated to be released May 16, 2014 and you can find out more about the movie by heading over to our Blend Film Database.
NJ native who calls LA home; lives in a Dreamatorium. A decade-plus CinemaBlend veteran; endlessly enthusiastic about the career he's dreamt of since seventh grade.