Frank Miller Hates Every Batman Movie, Refuses To Watch Any Of Them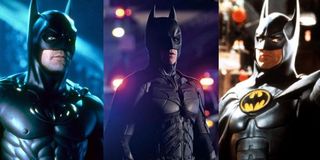 Frank Miller is a comic book author known and admired for his deeply dark brand of visual storytelling, perhaps most recognized from the movie adaptations of his graphic novels Sin City and the upcoming Sin City: A Dame To Kill For. It turns out, Miller is outright hostile to movie adaptations of his characters that he himself didn't have a hand in helming, and that includes every single Batman movie. In fact, he hates them. Every. Single. One.
In an interview with Playboy (opens in new tab), Frank Miller admits he's not much of a fan of the movies made from his comics, like Daredevil and Electra. Fair enough, those movies are generally regarded as poor to terrible. But Miller extends that sentiment to every representation of Batman, a character he re-imagined as a grizzled, fifty-something who was essentially a sociopath back in the late 1980s.
He tells Playboy :
To be clear, Miller doesn't just mean Tim Burton's gothic Batman or Batman Returns, or Joel Schumacher's flashy Batman Forever and infamous Batman & Robin. Asked if his disdain for Batman movies included Christopher Nolan's fanboy-adored Dark Knight trilogy, Miller was frank, saying:
Miller won't likely give a second thought to dismissing the upcoming Batman v Superman: Dawn of Justice, even though an early look at the costume Ben Affleck will be donning as the Dark Knight looks like it pulled serious inspiration from Miller's time as Batman's writer. Dare to compare with the pic below. The colors may be different, but the bulkier Batman and shorter "ears" draw parallels.
It seems guaranteed that Miller's comments will draw the ire of Batman and Dark Knight Trilogy fans. But it's unlikely Miller will care. Asked if he prefers Batman to Superman, Miller seemed to sneer, saying, "Do I love Batman more? They're not people. They're only lines on paper."
Regardless of the outrage his statements may cause, Frank Miller has achieved one thing. He's scored headlines for Sin City: A Dame To Kill For, a (too) long-awaited sequel that could use the added ink ahead of its Friday release.
Your Daily Blend of Entertainment News
Staff writer at CinemaBlend.
Your Daily Blend of Entertainment News
Thank you for signing up to CinemaBlend. You will receive a verification email shortly.
There was a problem. Please refresh the page and try again.