Freaky Clip Reveals Truth Behind Deliver Us From Evil's Demon-Hunting NYPD Officer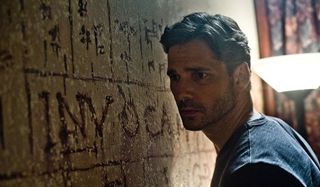 Last summer, The Conjuring proved a major hit, terrifying audiences with its creepy adaptation of reportedly true events. This summer brings us another horror-thriller based on some seriously scary case files with Deliver Us From Evil. This unnerving 15-minute featurette lays out all you need to know about New York Police Department Sergeant Ralph Sarchie, who not only seeks justice, but also battles demons.
While Deliver Us From Evil's marketing so far has focused on the film itself, this featurette introduces us to the real Ralph Sarchie. With his thick New York accent, he's about the last guy you'd imagine getting caught up in tales of demons running amok in the Big Apple. But his blue-collar vibe and live-and-let-live attitude lend credence to his claims, as does his all-business attitude when discussing Satan himself.
"I should have told you about this up front. You've become involved with the devil because of this film here," he tells the camera crew. "You singled yourself out now. Who do you think Lucifer's going to be looking at," he adds with a stern tone, "When you stand up and give the devil the finger." These warnings make this vid a daring bit of marketing meant to appeal to risk-takers and dare-lovers. See Deliver Us From Evil, and the devil may see you.
Also featured this featurette is Sarchie's daughter, who recounts some of the phenomena she witnessed in their family home following her father's entry into demonology. Both Sarchie and his daughter are portrayed in Deliver Us From Evil, he by Eric Bana--brandishing a familiar accent--and she by little Lulu Wilson. See both below in the chilling teaser for Deliver Us From Evil.
Deliver Us From Evil is inspired by Ralph Sarchie's 2001 memoir, Beware The Night, which he co-wrote with American journalist Lisa Collier Cool. While it seems Sarchie has had contact with the film's makers, Deliver Us From Evil's screenplay was adapted by Paul Harris Boardman and Scott Derrickson, the twisted twosome who co-wrote The Exorcism of Emily Rose, another horror feature based on actual events. Derrickson is also directing Sarchie's story, lending the film some genre cachet as he has helmed the deeply spooky Sinister, which was a hit with critics and audiences. With Derrickson set to step away from horror for the superhero set, we're all the more eager to sink our teeth into Deliver Us From Evil. How about you?
Deliver Us From Evil opens July 2nd.
Your Daily Blend of Entertainment News
Staff writer at CinemaBlend.