From Superman To Supernatural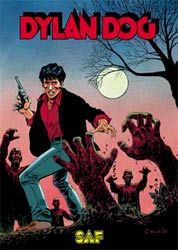 Where do you go once you've played the Man of Steel? Well, the future hasn't exactly been a brilliant, shining beacon of hope for most of the other Superman actors. Brandon Routh appears to be trying to change his own destiny by pursuing roles other than Superman. However, it doesn't look like the actor is straying too far from his success. Next up for the actor: Dylan Dog, a less mainstream comic book character.
Dylan Dog is the lead character in a supernatural/horror comic book series from SAF. The comics feature Dylan off on some investigation of the supernatural, while leading a rather Munster life of his own, including a screaming apartment doorbell. Once married, the widower now goes through women on a regular basis and is accompanied by a sidekick that resembles Groucho Marx.
I have to admit, I've never heard of the character or comic before, but it certainly sounds quirky enough to be interesting. It definitely is a departure from the red and blue tights of Superman for Routh. The question is, will the international-selling comic book be as widely accepted and popular as the Man of Steel? Also, does this put a kink in the talk of a Superman Returns sequel, or, at the very least, a delay while Routh does other things? This sounds like an interesting enough project to keep an eye on.
According to Comic Book Resources, the project will be directed by David R. Ellis – director of the infamous Snakes on a Plane. Let's hope this quirky film holds on to the interest level better than Snakes did.
Your Daily Blend of Entertainment News
Thank you for signing up to CinemaBlend. You will receive a verification email shortly.
There was a problem. Please refresh the page and try again.