Are Frozen, Tangled And The Little Mermaid Actually Linked?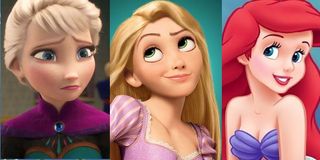 Warning: the following contains spoilers for Frozen, Tangled and to a lesser degree The Little Mermaid.
Disney's Frozen has been a gargantuan hit that has been killing it at the box office, on the Billboard charts, at the Oscars and as an endless source of web-based entertainment. So it shouldn't surprise you to learn that one obsessed Frozen fan has concocted an intense theory about how three of Disney's princess tales (Frozen, Tangled and The Little Mermaid) all exist in the same narrative world. But I warn you, this is going to get dark.
Okay, so you probably know that Tangled and Frozen are linked. First off, Rapunzel and the sister princesses of Arendelle share a pretty similar animation style. But more importantly, Rapunzel and her beau Flynn Rider popped by Elsa's kingdom for her coronation. Maybe you thought this was just a fun little Easter Egg? Well, not according to Tumblr user ercmreh (via E Online). She's spurred discussion of a theory wherein Rapunzel's happy ending was the cause of Anna and Elsa's greatest tragedy: the loss of their parents.
In case you missed it, here's Tangled's happy couple's cameo in Frozen during "For the First Time in Forever."
Remember how during the song "Do You Want to Build A Snowman?" there's an interlude where Anna and Elsa's mother and father set off on a ship for a "two week" voyage, only to be drowned when a massive storm overtook their ship? Ercmreh theorizes that the king and queen of Arendelle were in fact headed to Rapunzel's coronation, which was the final scene of Tangled. Sadly, they died en route.
But wait--you might say--we have no way of knowing where they were headed! Well, consider the timelines of the movie's actual releases and how this is reflected in the plot of Frozen. After the death of the king and queen of Arendelle, Frozen jumps ahead three years to Elsa's coronation. Three years is the amount of time that passed between the release of Tangled (November 24th, 2010) and the debut of Frozen (November 27th, 2013)! Clue or coincidence? That's for you to decide. But also think on this: if a neighboring kingdom's rulers died on their way to your coronation, you'd make it a point to return the favor by attending the coronation of their orphaned eldest, wouldn't you?
But how do we know Arendelle and Tangled's kingdom of Corona are near each other? Well for one, Rapunzel's appearance in Frozen suggests they are trade partners. But beyond that, Disney fanatics have estimated that the architectural and costume designs from Tangled would align with that of Germany or Poland's coastal regions roundabouts the 16 to 18th centuries. Frozen's Arendelle is said to be inspired by the Norwegian town of Arendal. So, these real-world inspired fictional kingdoms could be just across the North Sea from each other.
Now the sea itself is how Ariel and The Little Mermaid tie-in. If we assume that the animated movie based on the Hans Christian Andersen tale is set off the coast of his homeland of Denmark, then it could just mean that the very shipwreck Ariel scavenges for human treasures is the sunken ship of Elsa and Anna's parents!
Consult E's helpful map:
This poll is no longer available.
Your Daily Blend of Entertainment News
Staff writer at CinemaBlend.