Funny Or Die Parodies Drive With Drive-Thru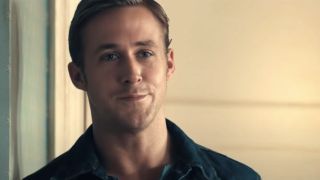 (Image credit: Film Disctrict)
Drive is one of the best movies of the year, a heavily stylized blend of action movie and character piece that positively drips cool. And like many movies that slam full-force into the movie-going consciousness, Drive is absolutely chockablock with elements just begging to be skewered, referenced, and outright parodied: Director Nicolas Winding Refn's unforgettable visual style. The propulsive faux-vintage soundtrack. The Driver's racing-jacket-and-gloves wardrobe, already a go-to Halloween costume. Gosling's "less is more" performance. That elevator scene. It's all there, just waiting to be played around with. Now Funny or Die has seized the opportunity. Presenting the "official movie trailer" for Drive-Thru. It is, as FoD explains, "Like Drive, but more delicious."
It's got everything you would expect, and some surprises. I love the rewrite of the Driver's opening monologue. I love "Arby Johnson." I love the nits he picks about Sonic. I love the freakin' spork in the elevator. I love the "celebrity" cameo, and the mask he chooses for that final confrontation scene. Props to director Matthew Michaud, writer Alex Blagg, and the rest for crafting a pitch-perfect parody -- one that made me chuckle and, now, makes me want to watch Drive again.
And make sure to watch all the way to the end. There's one last laugh to be had.
Your Daily Blend of Entertainment News