GLAAD Media Awards Celebrate Blue Is The Warmest Color And Dallas Buyers Club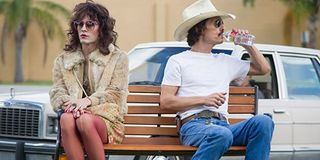 While the Academy Awards is the ceremony sure to earn the most ink over the coming weeks, the GLAAD Media Awards are an honor held more closely to the hearts of some. Seeking to celebrate films, TV shows, mini-series and websites that represent the LGBT community, GLAAD's ceremony shines a spotlight on a part of the artistic community that has been forced into the shadows for too long.
You can see the full list of nominations at THR, but we're sharing the film nominations below:
In the Wide Release category, there are three of the year's most talked about films. The Matthew McConaughey-fronted Dallas Buyers Club takes a look at the AIDS epidemic of the 1980s from the point of view of a homophobic cowboy forced to face his prejudices when he contracts the disease. The biopic has picked up six Oscar nominations, and has bolstered McConaughey's reputation as well as that of Jared Leto, who plays a trans woman called Rayon.
?
Facing off against Dallas Buyers Club here and in the Oscar's Best Picture race is Philomena, another biopic, this one centered on the long lost mother of a gay man who (spoiler alert) was also a victim of AIDS. So while both represent people under the LGBT banner, neither centers on a member of its community. ?
?
The French drama Blue is the Warmest Color has earned no Oscar nods, but plenty of critical praise as well as rousing controversy for its graphic sex scenes of a lesbian romance. Some have celebrated director Abdellatif Kechiche's frank treatment of the love life of his heroines, while others (including the comic book artist who inspired the film) have criticized it for being an unreal/salacious portrayal of lesbians. But frankly, it appears these were the limited options of GLAAD's nomination committee. ?
?
The lesser seen Kill Your Darlings does focus on a gay man, telling the story of a young Allen Ginsbeg. As for The Mortal Instruments: City of Bones, I have to admit I missed that one in theaters. But I've gleaned that that one of its noteworthy supporting characters, Alec Lightwood, identifies as gay. ?
?
The Limited Release category is far less known still, but notably more devoted to central gay characters. I wish I were surprised. Geography Club boasts its groups of "students of varying sexual orientation form" in its logline. Concussion and Reaching for the Moon center on lesbian romances, both with more mature leading ladies that Blue is the Warmest Color. Out in the Dark and Yossi focus on relationships between gay men. ?
?
The documentaries share a common theme, reflecting how far we have yet to come. Bridegroom follows a widower barred from his husband's funeral by his late mate's unaccepting parents. God Loves Uganda is about the Christian indoctrination of Uganda, and how its impacted their society. Call Me Kuchu focuses on Uganda's new morality laws that make being gay an offense punishable by death. The New Black puts its lens on how the African-American community is dealing with gay rights, and Valentine Road reveals a shocking hate crime committed by one child upon another. ?
?
In short, it's great that GLAAD holds these awards to spotlight those films that represent LGBT people as a part of our world community. It's just a shame that the wide releases--the ones that will draw the awards the most attention--aren't the films most deserving of praise for representation, especially as they are the ones that could make the greatest impact on social change.
Staff writer at CinemaBlend.
Your Daily Blend of Entertainment News
Thank you for signing up to CinemaBlend. You will receive a verification email shortly.
There was a problem. Please refresh the page and try again.