Game Of Thrones' Jason Momoa Plans His Directorial Debut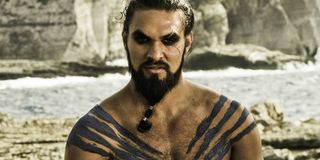 In Game of Thrones Jason Momoa won the devotion of fanboys and fangirls as the merciless horse lord Khal Drogo, but his next adventure has him playing a wolf. Not a Stark, but Robert Wolf, a Native American who gets entangled in a modern Western tale of revenge and redemption. Deadline reports Momoa not only stars in this crime-drama called Road to Paloma, but also makes his feature directorial debut here.
Though best-known for his roles on television, Momoa broke into directing in 2010 with a 15-minute short called Brown Bag Diaries: Ridin' the Blinds in B Minor. For Road to Paloma, he co-wrote the screenplay with Jonathan Hirschbein, and Robert Homer Mollohan, the latter of whom will co-star in the dark tale. After his mother is raped and murdered on a Native American reservation, Wolf (Momoa) decides to take the law into his own hands and avenge her. This quest for vengeance attracts the FBI, and to avoid them he teams up with a down and out musician called Cash (Mollohan). Together these motorcycle-riding cowboy types take to the highways of the American West to forge their own brand of justice. The supporting cast includes Lisa Bonet of Cosby Show fame, Sarah Shahi who shared the screen with Momoa in 2012's Bullet to the Head, True Blood's Michael Raymond-James, Hell on Wheels' Wes Studi, Timothy V. Murphy (who recently appeared in The Lone Ranger), and Sons of Anarchy's Chris Browning.
With production on Road to Paloma wrapped, Anchor Bay Films and WWE Studios have snatched up the drama's distribution rights for North America, the United Kingdom, Australia and New Zealand. This means we will likely see a release for Momoa's first feature by year's end. WWE Studios President Michael Luisi shared his enthusiasm for the acquisition with this statement:
Road to Paloma could prove the boost Momoa needs to get his movie career going again. In 2011, he fronted the $90 million reboot of Conan the Barbarian. But his rise as a leading man was thwarted when the tent pole won only critical scorn and made just $48 million worldwide. Still, his performance on Game of Thrones as Khal Drogo won him new fans who might be giddy at the chance of seeing this brawny badass rise again. Plus, with WWE Studios on board it seems safe to assume there will be some spectacular brawls to be had within Road to Paloma's journey. In the meantime, let's look back on one of the Khal's coolest moments:
Best watch your tongue around the Khal.
Your Daily Blend of Entertainment News
Staff writer at CinemaBlend.