Game Of Thrones Stars Playing Greta Garbo And Sci-fi Heroine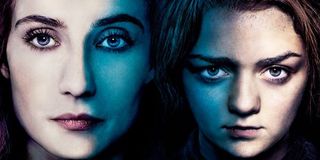 Carice van Houten has had head-turning roles in Paul Verhoeven's World War II thriller Black Book and the challenging Ingrid Jonker biopic Black Butterflies. But the strikingly gorgeous Dutch actress has reached a new level of fame thanks to her recurring role as the menacing red lady Melisandre on Game of Thrones, and she's putting her fame and classic Hollywood style beauty to use in making an English-language biopic about the iconic film star Greta Garbo.
Screendaily reports van Houten will produce and star in the presently untitled biopic, which will follow Garbo from her beginnings as shopgirl in Stockholm, to her heyday as one of MGM's most celebrated stars, one who deftly made the tricky transition from silent films to talkies before retiring in her prime. The screenplay by Soni Jorgensen is currently in flux, but van Houten promises it will offer a respectful yet insightful perspective into this mysterious starlet. Speaking on her passion for the project, van Houten explained:
The screenplay is expected to be completed this fall.
In other Game of Thrones-related news, Maisie Williams, who plays the fiery Arya Stark, is set to star in a science fiction feature called We Are Monsters. Screendaily reports she'll play the lead, a suburban teen who befriends a gang of mutant peers as they "quest to discover their true identities." No further details are being shared about the film's plot at this point. However, the casting of Doug Jones might be telling. A character actor with distinctly angular features, he often plays creatures, like Abe Sapien in Hellboy, the faun and pale man in Pan's Labyrinth, and aliens in TV series The Neighbors and Ben Stiller comedy The Watch.
Rob Sprackling (Gnomeo & Juliet) and John Shackleton (Panic Button) penned the original screenplay, which is already being touted as a possible franchise. We Are Monsters will mark Shackleton's feature directorial debut following a string of shorts. Production is slated to begin in the UK in late November.
Your Daily Blend of Entertainment News
Staff writer at CinemaBlend.
Your Daily Blend of Entertainment News
Thank you for signing up to CinemaBlend. You will receive a verification email shortly.
There was a problem. Please refresh the page and try again.