Garrett Hedlund Passed On Captain America Out Of Loyalty To TRON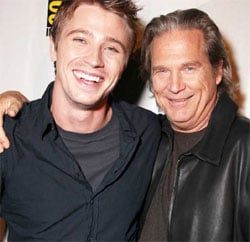 Here's something that Ryan Reynolds should maybe have taken note of before agreeing to do Deadpool. In an interview with Fadeinonline TRON: Legacy star talks about being considered for the role of Captain America, but says he passed on it. Why? Here's how he explains it.
That's something I don't think I've ever heard any other actor admit to before. Normally they'd only pass on something like Captain America because of scheduling conflicts, and while that was part of his reasoning, the notion that Hedlund skipped Cap because he believes in TRON so much, well that warms my little Troniac heart. In a way I sort of agree with him anyway. The notion of playing so many big, iconic, blockbuster movie heroes just feels wrong. Maybe that's why so many are annoyed with Sam Worthington. The man is well passed his blockbuster movie franchise quota. Hedlund sounds genuinely interested in more than just making as much money as possible by being in as many big movies as possible, and that's all too rare.
Your Daily Blend of Entertainment News