The Genius Files Go To Warner Bros.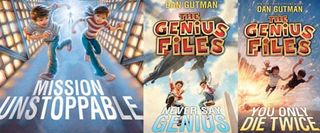 School is back in session for kids across the country, many of whose first loathsome assignment will be to pen an essay about "How I Spent My Summer Vacation." (Is there anything crueler than making kids recount the joys of summer from inside a classroom?) For most, this assignment will be uninspired, but the twins at the center of Dan Gutman's kids' book The Genius Files have plenty of wild tales to share.
In the first book of a slated six book series, this brother and sister team take on a revenge-bent gym teacher and two mysterious men in bowler hats who track them as they road trip with their parents cross-country in the family RV. While they fight for their lives and deal in secrets of national security, they are sure to keep their exploits secret from their parents, obviously. With insane antics that include getting trapped in a burning school, being hurled into a sand pit, and being sucked into a vat of gooey SPAM, the adventures of these two All-American and whip-smart adolescents named Coke and Pepsi McDonald (no joke) have been a big hit with kids, so it's little surprise that they are headed for the big screen.
Variety reports Warner Brothers has acquired the movie rights to the New York Times best-selling series, which they will likely spin into a family-friendly action-comedy in the vein of Spy Kids and Agent Cody Banks. Currently the first two books, The Genius Files: Mission Unstoppable and The Genius Files #2: Never Say Genius have hit stores; The Genius Files #3: You Only Die Twice will make its debut next January. While the names of the protagonists are cringe-worthy, the titles of the books seems spirited plays on Bond movies, and Gutman's imaginative world of kiddie dangers will likely appease younger audiences. In the meantime, check out a trailer for the first book below:
Your Daily Blend of Entertainment News
Staff writer at CinemaBlend.