George Lopez Beds Salma Hayek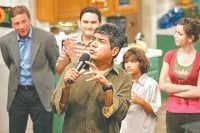 Selma Hayek and Jose Tamez started their production company, Ventanazul, so they could, as Variety notes, tap "hot young talent from Mexico, Chile and the U.S." So in announcing their first three movies, they clearly have followed that idea by bringing aboard…..George Lopez. Yeah, that George Lopez. There isn't an actual hot, young George Lopez out there; they mean the guy from the horrible "George Lopez Show."
Lopez is set to co-write and direct a sci-fi comedy about a woman who is sent into the past to prevent a war. Of course, all sorts of crazy things happen, including her falling in love. Lopez will not play the woman, thank god. The production is set to begin filming in 2008. All Ventanazul films will have budgets in the $2 million to $25 million range.
If time travel comedies aren't your thing, Ventanazul's also prepping two other movies. One, called Bones Family, is about a father taking his messed up family to Las Vegas. I like that better when it was called Vegas Vacation. Come to think of it, no I didn't like it much at all. The other, called Diego Ascending, is about a teen math prodigy who is conflicted between school and his responsibilities to his family. These movies seem to actually have hot, young talent involved. So two out of three ain't bad.
Your Daily Blend of Entertainment News
Thank you for signing up to CinemaBlend. You will receive a verification email shortly.
There was a problem. Please refresh the page and try again.