The Ghostbusters Cast Just Took A Fun 30th Anniversary Picture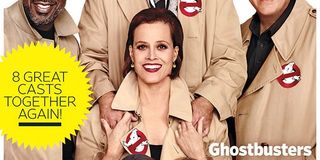 The Ghostbusters cast have reunited for a preposterously delightful image that will instantly warm the heart of anyone who has ever even seen a proton pack. Look at it and instantly feel happy.
Told you! Entertainment Weekly got the old gang back together for their reunions issue, and their front cover has Bill Murray, Ernie Hudson, Dan Aykroyd and Sigourney Weaver each smiling and looking overjoyed to be back in the presence of one another. The publication also convinced director Ivan Reitman and co-star Annie Potts to once again don the famous Ghostbusters attire (though that's currently only available in print), and they all recalled numerous tales from their time together onset. Of course, this is all happening thanks to the fact that 2014 is the year we celebrate Ghostbusters' 30th birthday. The magazine will hit shelves on Friday, and it promises to be a must-read for anyone with even a passing interest in the franchise.
The world is simply a better place when Ghostbusters is on. But this wasn't the only Ghostbusters reunion story of the day. Oh no. The cast also appeared on the Today show on Wednesday morning after its host, Al Roker, interviewed them during their Entertainment Weekly photo shoot to celebrate the film's 30th anniversary. During Roker's chat with the ensemble, he asked why the long touted third installment to the franchise had never materialized. At first, Bill Murray deadpanned, "I say the money's not right," before he then went on to seriously note, "It's really hard to recreate something that was so beautiful, so wonderful."
Murray went on to mention the planed all female Ghostbusters reboot, which recently had Bridesmaids director Paul Feig announced as its director. This provoked Sigourney Weaver to come up with two rather ingenious titles for the film, as she suggested that it should be called either Ghostbabes or Ghostbuster Babes. I think the film's fan-base would destroy the internet with their wrath if either was actually chosen, though. All the same, I still enjoy the warming glow of this cover.
Of course, one man who couldn't attend the reunion was Harold Ramis. Not only was he a co-writer for the film alongside Dan Aykroyd, but he starred as the beloved parapsychologist Dr Egon Spengler too. Harold Ramis sadly died earlier this year, but before his untimely passing he was able to reconcile with Bill Murray, with whom he had fallen out with during the production of Groundhog Day. There is one question that looms large over this Ghostbusters reunion though: where is Rick Moranis? I know he retired from show business, but it still would have been nice to see him as part of this reunion.
Your Daily Blend of Entertainment News