Ghostbusters Is Definitely Not Bringing Back One Major Character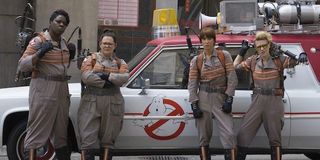 Next summer, when Paul Feig's female-fronted Ghostbusters reboot hits the big screen, it will bring along cameos from the three surviving original paranormal investigators, their secretary, and more. We'll also see a few other familiar elements, like Ecto-1, proton packs, and jump suits that look rather similar to the ones the old guard wore. But there is one thing we won't see, one original character who isn't being resurrected: Ghostbusters will not feature an appearance by Slimer.
Reports began to make the rounds that the ectoplasmic ghoul who haunts the Sedgwick Hotel in Ivan Reitman's 1984 Ghostbusters, and who became a part of the team in the ensuing cartoon, after The Simpsons' Dan Castellanetta was listed in IMDb as voicing the ghost. Bloody Disgusting checked with three separate sources confirming that Slimer is in fact in Ghostbusters, but Feig tool to Twitter to debunk these reports.
Here is where things get a bit fuzzy. Paul Feig, who, as director and co-writer, is obviously in a position to know this sort of thing, specifically said the IMDb credit is wrong. While that seems to mean that Slimer won't be in Ghostbusters, it could also simply mean that Dan Castellaneta isn't voicing the little green bastard.
Normally, this sort of speculation trends towards the conspiracy theory side of things, but Bloody Disgusting stands by their claim and their sources, vehemently stating that Slimer will show up in Ghostbusters. Make of all of this what you will and try to figure out where the actual truth lies on your own, because we don't really know. Or don't and just wait until you see the movie instead.
Even is Slimer doesn't make an appearance in Ghostbusters, there will be plenty of familiar faces to go around. Harold Ramis, who played Egon, passed away recently, but the other three original Ghostbusters—Bill Murray, Dan Aykroyd, and Ernie Hudson—will all pop up in small roles, as will Annie Potts, who played their secretary, Janine Melnitz, their secretary (a role now taken over by Chris Hemsworth), and Sigourney Weaver, who played Murray's love interest, Dana Barrett.
Much has been made of the casting of the reboot, which sees four women take over the key roles. Kristen Wiig plays Erin Gilbert, who, along with Melissa McCarthy's Abby Yates, writes a book about how ghosts are real. No one makes much of this until she gets a job teaching at Columbia University, where the tome surfaces and she basically gets laughed out of academia. Along with her old pal, and two more new recruits, Patty Tolan (Leslie Jones) and Jillian Holtzmann (Kate McKinnon), they team up to battle ghosts, ghouls, and specters of all varieties, which may or may not include Slimer.
Currently in post-productions, Ghostbusters haunts theaters starting on July 15, 2016.
Your Daily Blend of Entertainment News
Your Daily Blend of Entertainment News
Thank you for signing up to CinemaBlend. You will receive a verification email shortly.
There was a problem. Please refresh the page and try again.