Turns Out Dressing Like A Ghostbuster Is A Great Way To Teach Science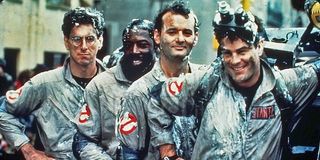 Getting kids interested in math and science in school is no easy task. It helps if you have a shtick, an angle, a hook to get them interested and engaged, and one group has found just that: they dress up like Ghostbusters to teach kids science, which apparently works pretty well.
A profile in Man's Life introduces a group of fans of the beloved 1984 horror comedy in New York have taken to dressing up like everyone's favorite paranormal investigators and visiting schools to get kids interested in science.
The New York City Ghostbusters are collection of enthusiasts who get together to celebrate a shared love of all things Ghostbusters, and, moving beyond simply doing cosplay and quoting favorite lines back and forth, they try to do some good in their community. Among other things, they promote literacy, cancer research, and collect food for food drives, and, starting in 2013, they started visiting schools to get students pumped up about science.
Though they've since smoothed out the wrinkles, their first endeavor was a wee bit of a mess, though an entertaining one. Talking about that initial attempt, Eric Cudsworth, the Executive Director of the group, and also a New York Police Department detective, said:
When they show up at schools they bring a variety of activities with them, including props, demonstrations, and a number of interactive pursuits to get the kids involved. Then there's the most popular part of their presentation, the Slime Lab. All of this is paid for by donations, and the group doesn't charge for appearances (one, because they don't want to, and two, because the dress up a intellectual property that belongs to someone else).
The NYC Ghostbusters have garnered comparisons to the likes of the 501st Legion, a widespread group of Star Wars fanatics who not only make awesome and elaborate props, but try to benefit their communities by doing things like participating in various charity events and visiting sick kids in the hospital.
There are similar groups of Ghostbusters all over the place, spanning the country and the world. And with Paul Feig's upcoming female-fronted reboot in the works, which stars Melissa McCarthy, Kristen Wiig, Leslie Jones, and Kate McKinnon, such fandom has been in the limelight, even though there hasn't been a new Ghostbusters movie since 1989. There's even a documentary about it called Ghostheads in the works.
Just the other day we got the news that Ghostbusters finished filming, so now all we have to do is wait. The film itself doesn't hit until July 15, 2016.
Your Daily Blend of Entertainment News