Godzilla 2 Is Coming, Says Warner Bros.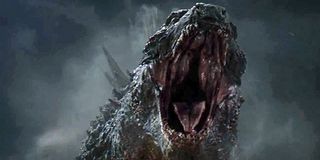 Way to spank that box office, Godzilla. The monster movie from Warner Bros. roared with a spectacular $93 million opening weekend, which included a hefty $38.5 million opening day, the best first-day gross of the year. That's a lot of cheddar, Godzilla, eat smart, guy. This places Godzilla just whiskers away from the $95 million taken in by Captain America: The Winter Soldier, the year's biggest opening. And so, as far as these things go, it makes sense that Warner Bros. would suggest yet another helping of sweet, sweet Godzilla pie.
Deadline reports that, as of Sunday morning, Warner Bros. has committed to a second Godzilla. This comes after a muscular international opening of $103 million, the year's biggest overseas bow. Legendary Pictures, who financed 75% of the monster mash, are ready to get back in bed with the WB for a follow-up in the wake of these numbers, which heavily out-performed expectations. And... there's no other news! Gee, our movie just did ridiculous box office on its opening weekend so we've decided to try to make more money.
While no one has really heavily talked sequel plans, the assumption is that Gareth Edwards would return to the director's seat. His approach has won over a number of people on the critics' side, with a 62 rating on Metacritic and a 72% Rotten Tomatoes score. Still, those numbers suggest more than a little dissension, brought forth by the B+ Cinemascore rating; not terrible, but widely-liked movies tend to register higher, in the 'A' range. Of course, there was another box office smash from Legendary Pictures that scored a B+ from Cinemascore audiences. That movie was Inception.
So where does a sequel go? Legendary and the WB sadly do not seem to own the rights to Godzilla's classic enemies, including Mothra, Rodan and Ghidorah. So the good news is, more new monsters. The bad news is, was anyone really enamored with the M.U.T.O.'s from the current movie? Of course, Edwards' approach makes all the difference, and he got a lot of mileage out of "villain" monsters who looked like Cloverfield cousins...
Still, you hope this doesn't end up being a bad idea, as there's a history of this: Sony was very active with the planning of 1998's Godzilla as a franchise to the point where a massive multimedia campaign was planned to follow the film's theoretical success. The only remnants of said campaign? The absolutely bizarre Godzilla: The Series. Shudder.
Your Daily Blend of Entertainment News
Thank you for signing up to CinemaBlend. You will receive a verification email shortly.
There was a problem. Please refresh the page and try again.